Take Action: Tell President Obama to stop protecting Israel's nuclear weapons monopoly in the Middle East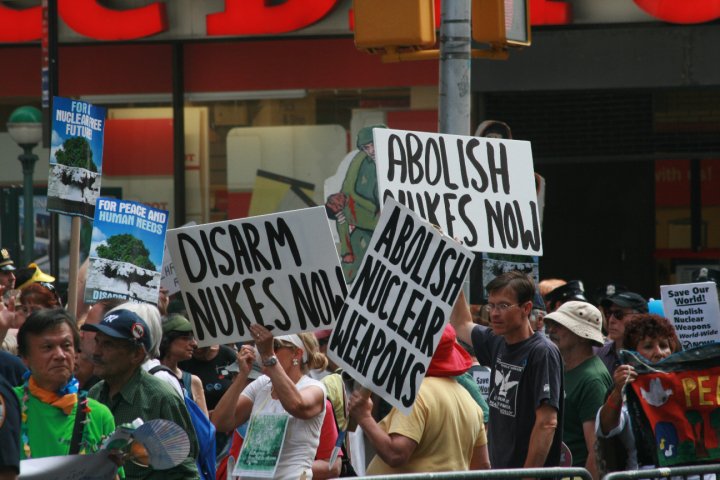 Disappointingly but not surprisingly, the month-long Nuclear Non-Proliferation Treaty Review Conference (NPT RevCon) at the United Nations ended last Friday in failure.  The United States and other nuclear powers continue to blow off their Article VI treaty obligation to negotiate the elimination of their arsenals, preaching abstinence to the non-nuclear states from a barstool while indulging in an outrageous binge of "modernization" of their nuclear weapons enterprises (the U.S. is the worst, planning to spend up to $1 trillion of our tax dollars over the next 30 years to upgrade all parts of the nuclear weapons complex).
There was no consensus reached at the NPT RevCon to strengthen and extend nuclear disarmament and non-proliferation measures as the United States (joined by the United Kingdom and Canada) blocked a proposal by Egypt to convene a conference to create a Middle East Weapons of Mass Destruction-Free Zone.  This isn't the first time the U.S. put Israel's desire to pretend it doesn't have nuclear weapons above humanity's interest in abolishing these doomsday weapons before it's too late.
ACTION: Please write President Obama to protest the U.S.'s intervention to protect Israel's nuclear arms monopoly in the region and demand he reverse course and work to convene the Middle East conference, as agreed at the 2010 NPT Review Conference. The Middle East conference was to have been held in 2012, but was never convened, due to Israeli and U.S. opposition. Furthermore, urge him to initiate negotiations for a nuclear weapons convention to eliminate all nukes worldwide, as the NPT's Article VI requires.
The failure to agree to proceed toward a WMD-Free Zone conference, something advocated by all states in the region other than Israel, is particularly short-sighted.  The U.S. and its "P5+1" negotiating partners (France, China, the UK, Russia and Germany) are in the home stretch of crucial negotiations that would close off Iran's potential paths to a bomb.  Israel's nuclear weapons monopoly needs to be acknowledged and addressed or it will remain a stumbling block to regional peace and world security.
Peace Action was proud to be one of the co-conveners of the Peace and Planet mobilization, bringing thousands of peace and disarmament activists from around the world to New York just before the NPT RevCon. Peace and Planet is also a promising initiative to demand rapid progress toward global nuclear weapons abolition, as part of a broader peace and justice movement.
The failure of the obstinate nuclear states at the NPT RevCon is unacceptable.  Please take a moment to let the president know your views.
Peacefully and Disarmingly Yours,
Kevin Martin
Executive Director
Peace Action
P.S. If you want to read more on the NPT RevCon outcome (or lack thereof), please see my article on our Peace Blog