2/27 National Day of Action to Pull the Pork from the Pentagon Budget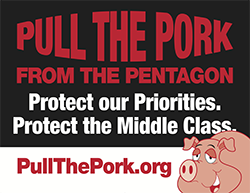 The National Day of Action on Pentagon Spending on was the first time in quite a while that we and our allies got out on street corners to press Congress to cut Pentagon spending.
Peace Action joined USAction's call to action along with our allies American Friends Service Committee, Coalition on Human Needs, Friends Committee on National Legislation, National Priorities Project, National Security Network, the Pentagon Budget Campaign and Win Without War. Watch the video of the national gathering outside of Lockheed Martin's headquarters. [youtube http://www.youtube.com/watch?v=I8A0jLfkF8w&w=560&h=315]
On 2/27, actions were held in 25 states. These actions are a snapshot of the grassroots organizing that has been underway in the last two years on city council resolutions, lobbying efforts and grassroots alliance building.
With only 2 weeks notice, Peace Action affiliates brought together those they have been working with and reached out to new allies for some great actions. This is only one of many activities and initiatives that we will be taking in the next critical months of the federal budget struggles. We are dug in for the long haul movement building which is needed to fundamentally change federal budget priorities and move the money from wars and weapons to fund jobs, diplomacy and human services!
Here are some Peace Action reports from around the country:
• MA Peace Action
The Budget for All Coalition, a statewide network of community and peace groups which MA Peace Action and AFSC-New England initiated and co lead, sponsored the 2/27 rally which 30 people braved the rainy weathre to do so. This coalition sponsored the successful Budget for All referendum passed on Nov. 6, 2012 which called on the MA Congressional delegation to prevent cuts to human services, close corporate tax loopholes and move Pentagon spending to fund jobs and our communities.
A letter signed by 37 state legislators, urging the Massachusetts Congressional delegation calling fulfilling the mandate supported by over 700,000 voters in the Budget for All referendum.
Who:American Friends Service Committee-New England, Budget for All Coalition, Mass Alliance of HUD Residents, Act-Up, Boston Workers Alliance HeadStart Parents, Witness to Hunger and MA Peace Action.
Media:Working with the Coalition on Human Needs on placing a follow up op-ed.
• Mainline Peace Action – Philadelphia, PA 
A copy of the Philadelphia City Council resolution calling on Congress to "Redirect Military Spending to Fund our Communities", the Coalition on Human Needs fact sheet on the impact of sequestration and 15,000 signatures on a Keystone Progress Petition calling on Congress to Cut the Pork were delivered to Senator Robert Casey's office in downtown Philadelphia.
Who: Keystone Progress, Delaware Valley New Priorities Network and Main Line Peace Action, Brandywine Peace Community, Veterans for Peace and Service Employees International Union's Fight for Philly
Media: Deleware County Daily Times
• Montgomery County Peace Action, MD 
In Maryland, they protested the pork in the Pentagon budget two days in a row. On 2/26 pulled pork sandwiches were delivered to every MD state legislator (187) as they were asked to speak out in opposition to the sequester and in favor of cutting Pentagon pork. On the 2/27 they took  sandwiches to their Senate and House members!
Who:  Progressive Maryland and Fund Our Communities, Bring the War Dollars Home, Peace Action Montgomery, Howard County Peace Action, and Anne Arundel Peace Action.
Media: Montgomery County Peace Action worked with Coalition on Human Needs on press coverage. Several print media and MD Public TV came to the press conference.
• Peace Action WI 
Despite a blizzard, 50 people gathered in downtown Milwaukee for a rally and delivered 3,000 signatures to Senator Ron Johnson's office. At the rally, Peace Action WI's Program Director, Mike Helbeck called on Congress to meet the needs of the people instead of the military corporations.

Who: Service Employees International Union, WI Jobs Now, Citizen Action, 9-5, Progressive Democrats of America, Milwaukee Teachers from closed school, Milwaukee Innercity Congregations Allied for Hope, homeless organizers and Peace Action WI.
Media: Local TV coverage. Peace Action WI partnered with Coalition on Human Needs on a follow up  op-ed in the Milwaukee Journal Sentinel. 
• NH Peace Action
Braving a storming,  20 people picketed in front of Senator Kelly Ayotte's Nashua office . They went inside and read statements asking her to consider cutting pentagon pork first! Senate Ayotte did a fear mongering road tour with Senators McCain and Graham before the lame duck session of Congress arguing against cuts to the Pentagon budget. In NH, they are keeping the pressure on!
Who: NH Citizen Action and NH Peace Action
Media: Story on the WBIN TV evening news. Working with the Coalition on Human Needs on placing a follow up op-ed.
• Bay Ridge Peace Action, Brooklyn, NY
After reading and Peace Action alert on the National Day of Action on the Pentagon Budget, a dozen Peace Action members brought the message to NY Congressman Michael Grimm's office with a picket line calling for Pulling the Pork.