87 year old Sam Winstead leads bicycle ride for peace from North Carolina to DC!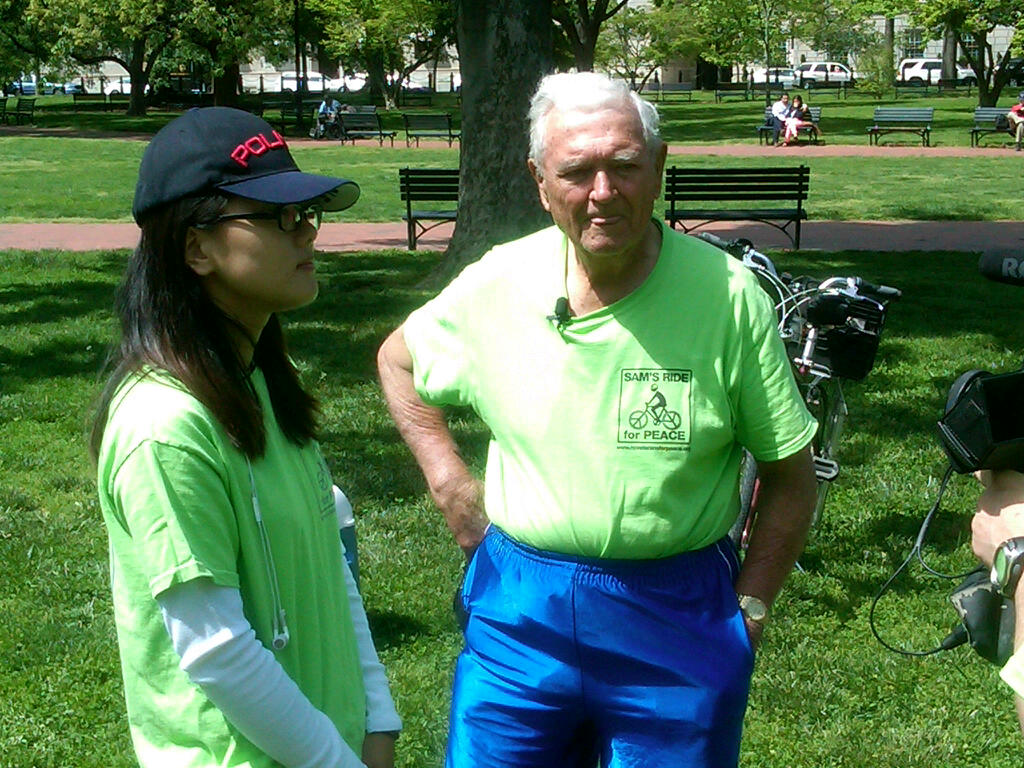 (photo: Kevin Martin)
That's Sam on the right, with Korean-American peace activist Jae Lee on the left, on Saturday at Lafayette Park in front of the White House. Sam, his 69 year-old cousin Joe Winstead and "youngster" Ron Scroggs (age 66) biked from Raleigh, NC to our nation's capital on Sam's second annual ride for peace, arriving here on a glorious spring day after seven days on their bikes. After a day of rest, Sam, a World War II veteran, will meet with NC legislators here on Capitol Hill to deliver his message of ending U.S. wars, which already got out on the local ABC station's Saturday evening news broadcasts! Peace Action helped support the event, along with Veterans for Peace, and NC Peace Action director John Heuer, also a VFP member, was the organizer/advance man of the trek. Here's John's report from day three of the tour in Virginia:
Day Three, Blackstone to Gum Spring
April 30
Sam, Joe, Ron, Jim and I found the same round table as the night before at the Farmers Café in Blackstone for a hearty breakfast, before launching the Day Three Ride for Peace.  The Blackstone Library was closed early Tuesday morning, so Sam wrote a note to accompany a copy of "When the World Outlawed War" and slipped it in the 'return box' at the library entrance.
I drove ahead marking the route as far as Goochland, and stopped at the White Hawk Music Café.  Sam and I had stopped there last spring when we scouted the route for the 2012 Ride for Peace.  The White Hawk offers the World's Best Coffee Cake, great coffee, friendly service and wifi internet.  Tuesday morning they hosted a couple of tables of women bridge players as well.
When I finished arranging our accommodations for Culpeper and Leesburg, I marked the remainder of the route to the Grayhaven Winery in Gum Spring, and waited by the Parrish Grocery at the corner of Hwy 250 and 522 (downtown Gum Spring).  It turned out to be a long wait, but by 6:00pm Sam and Co. hove into view.  It had been a harrowing ride north of Goochland on Hwy 522, as rush hour traffic backed up behind tail driver Jim on the narrow 2-lane road.  Jim cringed at the thought that impatient drivers were cursing "Sam's Ride for Peace" the sign prominently displayed on the back of Jim's Toyota pick-up.  Jim hadn't joined this ride to piss people off. At one point a VA state trooper pulled Jim off the road and cautioned him about holding up traffic.  A strong headwind and slate start helped put us in jeopardy.  For next year's ride, we'll get an earlier start from Blackstone, and dodge the rush into Gum spring.
Our return to the Grayhaven Winery was greeted with a warm welcome.  Last year we missed our host Deon Abrams, who was catering a dinner at the South African Embassy in Washington DC.  The Grayhaven features South African food and wine, and Deon is the caterer of choice for South African functions at the embassy and Ambassador's home in DC.  He is also a relative newcomer to the Grayhaven Winery.  His wife Max's parents, Chuck and Lyn Peple established the Grayhaven during the 1970's, when it was one of just 6 wineries in Virginia.  Now there are 240.  As Deon described it, establishing a winery in Virginia is a popular way for rich people to lose money.  Max and Deon's son, Azra, now 8 years old, is a full head taller than last year, and sported his own new bicycle.
When we stayed with the Peples /Abrams in 2012, we donated a book to their library.  Former Chapel Hill mayor and UNC Law School Dean Ken Broun had recently published "Saving Nelson Mandela—The Rivonia Trial and the Fate of South Africa."   Deon believes strongly that Nelson Mandela was the only person who could have led South Africa out of Apartheid and onward toward democracy.
After we sampled a wonderful variety of Grayhaven wines, Max served up a delicious dinner that included a venison pate made by a vegetarian friend.  Chuck and Lyn are both literary folks, and Chuck showed us the newly published "400 Years—The History of Henrico County" of which he is co-author.  Chuck had turned 78 just 4 days earlier, and he is determined to train for Sam's 2014 Ride for Peace.  Seeing the 87 year-old Sam Winstead on his bicycle has that effect on people.
More photos from Saturday's gathering at Lafayette Park: