Constitution Schmonstitution! Let's go ahead and have a (we won't call it a war) on ISIS/ISIL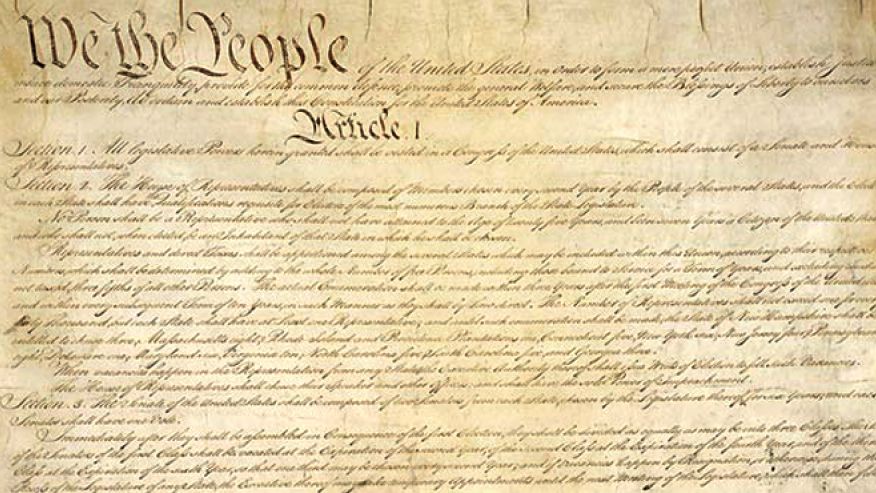 Quick trivia question – on what subject was Barack Obama a lecturer at the University of Chicago Law School?
Birthers might say "Islam" but it was in fact Constitutional Law. So he knows full well, and at times has shown he understands, that the U.S. Constitution clearly assigns the power to declare war to Congress, not the president. The best example of this was just over a year ago when he surprisingly but wisely concluded he needed to come to Congress for authorization to bomb Syria, then even more wisely never even went to Congress when he realized he had scant public and Congressional support (and his pal Vladimir Putin also helped save his hash by convincing Syria to divest itself of chemical weapons).
So now the president wants to continue to bomb the radical forces of ISIS (or ISIL as the Administration calls them) in Iraq (and likely, ironically, Syria again) and says he'd "welcome" Congressional support but he does not need it. (When I heard that line in his speech last night I reacted the same as U.S. Rep. Jim McDermott, who said it was "almost condescending" though I'd omit the "almost.")
Earlier this week it appeared very unlikely Congress, eager to duck accountability for okaying what is a surefire quagmire-to-be, impatient to campaign for re-election in November's midterm elections or wrapped up in other dysfunctional and/or partisan squabbles (take your pick, and for some Members of Congress it is "all of the above") would schedule a vote on any type of war authorization bill before adjourning later this month.
However, now there are rising calls for Congress to do its job and vote on authorizing a new war from the Progressive Caucus, some Libertarians and others in the House and a growing gaggle of Senators from across the political spectrum. Anyone who would hazard a guess as to how such a vote would turn out would be someone not worth listening to at this point (especially since a war authorization might be subject to all manner of currently unknowable limitations or conditions that would affect the support it would draw). We may well learn more next week about a possible Congressional vote.
There's no question such a vote is required. The president is just plain wrong on this point, and not just about Congress, but also he is ignoring international law requiring United Nations Security Council approval. Mark Weisbrot of the Center for Economic Policy and Research and Just Foreign Policy laid it out clearly in an article for The Hill.
Take the UN requirement first:
"Just as the U.S. Constitution provides a check on the president's authority to wage war, at the international level there is the law of the United Nations, which is supposed to govern the use of force in international relations.  Article 2 of the U.N. charter, to which the U.S. is a signatory, prohibits the use of military force against other nations unless authorized by the Security Council.  There are exceptions, for threats of imminent attack, but the U.S. is not under imminent threat of attack and no one has claimed that it is."
Then the Congressional one:
"…the United States is still a constitutional democracy, or is intended to be one; and under our Constitution (and the War Powers Resolution) it is still the Congress that has to decide if the country is going to war."
Ah the War Powers Resolution, dating to 1973, an attempt by Congress during the Vietnam War to curtail presidential war making run amok. The Obama Administration has been until now complying with the WPR's requirement to notify Congress of ongoing military action, even though the WPR does not grant the president authority to bomb in Iraq.
Says who? Former eleven term U.S. Representative from Illinois Paul Findlay (the federal building in Illinois's state capital, Springfield, is named for the man), one of the main authors of the War Powers Resolution. Testify Brother Findlay (from a news release by our colleagues at the Institute for Public Accuracy):
"Our elected leaders are acting like jelly fish. Members of Congress must decide whether to bomb Iraq or Syria, or both. The president has no authority to bomb either country. He violates the Constitution with every bomb he sends to Iraq. Ordering acts of war is too serious a decision to leave to one man. The Constitution is the supreme law of the land.
"We just marked the 50th Anniversary of the Tonkin Gulf Resolution, which I voted for and which President Johnson used to dramatically escalate the Vietnam War. I never intended that Resolution to be a blank check for war against Vietnam. Yet that is exactly what Johnson used it for.
"As a consequence, in 1973, I helped draft the The War Powers Resolution and my vote helped override President Nixon's veto.
"Enforcement of limits on presidential employment of war powers deserves the vigilance of each member of Congress. Each member should consider enforcement a grave personal responsibility. War measures that today seem inconsequential can lead to larger involvements tomorrow. Their ultimate size and duration are unpredictable, as we found in our costly war experiences in Vietnam, Iraq and Afghanistan.
"Just recently, Congress stood by as the President ordered bombings in Iraq. Then two U.S. citizens were killed. Rather than using their deaths as a rallying cry for more war, they should be a warning of the negative consequences of war. It's no accident that the framers deemed the decision of war-making too important to be made by one person.
"If the president orders acts of war in the absence of congressional approval, he risks impeachment by the House of Representatives for usurping a power the Constitution reserves exclusively to the Congress. If Obama wishes lawfully to order airstrikes in the territory of Iraq or Syria, he must first secure a resolution of approval from Congress."
Would love to see this man debate his fellow Illinoisan/commander in chief, yes?
Returning to the matter at hand, exactly what does the president cite for his purportedly existing "I don't need no stinkin' Congressional vote" legal authority to bomb Iraq and soon Syria?
Until yesterday the Administration had not said, exactly, but I had a hunch it was the 2001 Authorization for the Use of Military Force Congress granted President George W. Bush just after 9/11, which only U.S. Rep. Barbara Lee voted against. Sure enough, last night an unnamed "senior Administration official" confirmed this in response to a reporter's question on a conference call. After stating Congress could specifically authorize military action against ISIS/ISIL, said official stated the following:
"But, to be clear, we do not believe the President needs that new authorization in order to take sustained action against ISIL.  We believe that he can rely on the 2001 AUMF as statutory authority for the military airstrike operations he is directing against ISIL, for instance.  And we believe that he has the authority to continue these operations beyond 60 days, consistent with the War Powers Resolution, because the operations are authorized by a statute.  So we welcome congressional support."
This is, to be polite, garbage, especially from an administration which has previously advocated repeal of that law (and said it would not rely on that nor on the 2003 AUMF for the Iraq war for its legal authority). Here is what the 2001 AUMF authorized a different president to do:
"…the President is authorized to use all necessary and appropriate force against those nations, organizations, or persons he determines planned, authorized,committed, or aided the terrorist attacks that occurred on September 11, 2001, or harbored such organizations or persons, in order to prevent any future acts of international terrorism against the United States by such nations, organizations or persons.
How a reasonable person would conclude this applies to the current situation in Iraq and Syria is anyone's guess, especially since ISIS/ISIL and al Qaeda have split and are at each others' throats, though many peace activists and Constitutional scholars have long feared broad presidential war-making powers would be claimed under this AUMF. At best, it is a highly dubious proposition that this AUMF applies because ISIS/ISIL is an offshoot of al Qaeda, which carried out the 9/11 attacks.
The salient point is the Obama Administration should be forced to make that case, if that's what it believes to be its war-making authority now, to the public and Congress. Oh yeah and not just the legal authority question, it also needs to convince the Congress and the country that we absolutely need to get involved in another Middle East war. That's what democracy looks like.