The Multi-Million Dollar Campaign to Kill the Iran Deal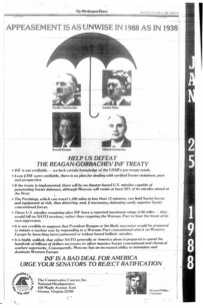 Anyone who has been paying attention to the nuclear negotiations with Iran would have a hard time denying the blatant political motivation behind the barrage of Republican attacks on Obama's foreign policy. A successful agreement would be a huge win for Obama and transitively the Democratic Party. But it's important to realize that some people are simply against diplomacy on principle. In 1988, the Conservative Caucus released this ad (Left) blasting the INF treaty between Ronald Reagan and Mikhail Gorbachev that led to the dismantling of 2,692 nuclear missiles.
The ad compares Republican President Ronald Reagan to Neville Chamberlain stating "Appeasement Was as Unwise in 1988 as in 1938." 27 years later, when the framework agreement between the P5+1 powers and Iran was announced, Senator Mark Kirk (R-IL), one of the louder opponents of the nuclear negotiations, said of Obama, "Neville Chamberlain got a better deal from Adolf Hitler." Senator Tom Cotton (R-AK) countered Kirk's statement, saying it was unfair to Neville Chamberlain. Republican or Democrat, apparently no President can pursue diplomacy without being called an appeaser.
But if partisan politics alone cannot explain intense opposition to diplomacy, then what can? I would posit that the more pressing motivation is a preference for war and confrontation. Diplomacy is war's archenemy, and proponents of diplomacy are obstacles to be cleared from the roadway during the march. Unfortunately, hawks in Congress aren't the only ones marching us down this path.
Since the tentative nuclear agreement went into effect on January 20, 2014, conservative think tanks and pro-Israel lobbies have banded together to spend millions of dollars attacking the nuclear agreement with Iran. This anti-deal coalition has run ad campaigns, lobbied Congress vigorously, and generated grassroots pressure against the nuclear deal. The organizations in this coalition include (but are not limited to) the Foundation for Defense of Democracies (FDD), the American Israel Public Affairs Committee (AIPAC), the Republican Jewish Coalition (RJC), the American Security Initiative, the Foundation for a Secure and Prosperous America, United Against Nuclear Iran (UANI). Below is by no means a complete catalog of their activities targeting the Iran deal, but the information paints a gruesome picture of a powerful coalition with a monstrous purpose.
The Foundation for Defense of Democracies (FDD):
Mark Dubowitz, the executive director FDD, along with Richard Goldberg, a former deputy chief of staff to Sen. Mark Kirk (R-IL), wrote a policy paper in June of 2014 that Foreign Policy described as a "playbook for opposing an Obama nuclear deal with Iran." The gist of the paper is that if the final nuclear deal with Iran does not meet the parameters they put forward, Congress should prevent a "bad deal" by refusing to lift sanctions. Conveniently, the parameters include numerous poison pills that would make it impossible to reach a deal. Any reasonable deal reached would, from this perspective, be a bad deal. The talking points put forward in this paper have since been internalized and regurgitated by nearly every anti-Iran hawk in Congress, as well as by conservative media outlets across the country. FDD's position on sanctions begs a question: Why is "defending American sanctions" more important to Dubowitz et. al. than securing an agreement that would prevent Iran from developing a nuclear weapon? Maybe it's because Dubowitz sees himself as a major player in creating the American sanctions regime on Iran and is sorry to see it go. However the more likely explanation is that he wants diplomacy to fail so that there is no U.S. detente — however partial — with Iran.
The American Israel Public Affairs Committee (AIPAC):
In 2014, AIPAC spent over $3 million lobbying the federal government. One of the most frequently listed bills in its lobbying reports that year was the Nuclear Weapon Free Iran Act of 2014, also known as the Kirk-Menendez bill, a sanctions bill which, had it passed, would have violated the terms of the temporary agreement with Iran and could have caused the talks to fall apart. As of March 31, 2015, AIPAC had spent about $825,000 on lobbying in 2015. According to its Q1 lobbying report, 10 out of 11 of the listed lobbyists had lobbied on foreign policy bills including the Nuclear Weapon Free Iran Act of 2015 (virtually the same as the 2014 bill) and the Iran Nuclear Agreement Review Act of 2015, also known as the Corker-Cardin bill. The Corker-Cardin bill, recently signed into law, gives Congress the ability to vote for or against a final deal with Iran and block its implementation.
AIPAC recently posted on its website a list of 5 minimum requirements for a good deal, all of which are unlikely to be met in full under any nuclear agreement. It is furiously lobbying the hill behind this litmus test for the deal — a test designed to build opposition to the deal. AIPAC is also engaged in grassroots work generating constituent contact that "insists on a good deal" based on these requirements that all serious observers know will not be in any final deal.
The Republican Jewi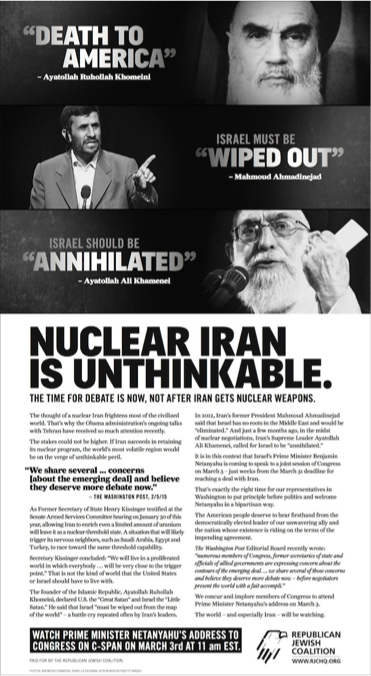 sh Coalition (RJC):
On May 1, 2015, the RJC ran this full-page ad in the Sunday New York Times. Not surprisingly, the ad mirrored Netanyahu's speech in its tone and its demonization of Iran. Another full-page ad ran in the New York Times on March 3, the day of Netanyahu's speech, with the simple headline: "Watch Prime Minister Netanyahu's Speech Today." It costs roughly $150,000 for a full-page ad in the New York Times, and significantly more for one in the Sunday edition.
These ads were accompanied by a web ad that ran on YouTube and Facebook for four days leading up to the speech, and by a petition that said, "Stand with Bibi." The surface message of this ad blitz is that people should watch the Israeli Prime Minister's speech, and that there should be a debate about the nuclear deal with Iran. The underlying message however is that Iran is on the verge of being a nuclear-armed state and could easily carry out a nuclear attack on Israel and/or the US. Despite the complete lack of evidence behind those claims, the same message is echoed by every organization in the anti-Iran coalition.
The American Security Initiative:
In the Spring of 2015, the American Security Initiative launched a $650,000 ad campaign targeting various senators regarding their positions on the Corker-Cardin bill. One of the ads, costing $263,200, targeted Jeanne Shaheen (D-NH), saying "Tell Senator Shaheen, no Iran nuclear deal without congressional approval. Before it's too late." The ad titled "Special Delivery" depicted someone driving a van through a crowded city and to the top of a parking structure before detonating a nuclear weapon. The American Security Initiative also spent $258,950 on ads targeting Senator Chris Coons (D-DE) and Senator Robert Casey (D-PA), as well as $141,000 on an ad praising Senator Tim Kaine (D-VA) for his support for the Corker-Cardin bill.
[youtube https://www.youtube.com/watch?v=b3DfNqZ-cvI&w=560&h=315]
The Foundation for a Secure and Prosperous America:
The Foundation for a Secure and Prosperous America spent roughly $1 million on an ad targeting Senator Rand Paul (R-KY), accusing him of supporting Obama's foreign policy, a cardinal sin in the Republican Party. The ad came out on April 8, 2015, the day after Paul announced his candidacy for President. According to an article in Politico, the ad was shown on "TV stations in Iowa, New Hampshire, South Carolina and Nevada – the four states with the earliest presidential primaries and caucuses – as well as nationally on Fox News Channel." The ad showed pictures of Senator Paul and President Obama next to each other while the narrator said "Rand Paul supports Obama's negotiations… Rand Paul is wrong and dangerous. Tell him to stop siding with Obama." The ad closed with a mushroom cloud and a stern warning; "One Iranian bomb would be a disaster." While one purpose of the ad was clearly to thwart Paul's presidential ambitions, rallying viewers against the Iran deal was at least a bonus if not the driving motivation. The ad ran 80-100 times per day in each state and on Fox News.
[youtube https://www.youtube.com/watch?v=HeVjM8VNSXk&w=560&h=315]
The Moneyed Interests and Their End Game
Of all the donors contributing to the anti-Iran coalition, Sheldon Adelson is probably the most notorious. His net worth is roughly $30 billion. He and his wife spent $93 million in campaign contributions in 2012. He personally spent $5.8 million in the 2014 midterms, helping elect hawks like Tom Cotton (R-AK), Marco Rubio (R-FL), and Lindsey Graham (R-SC). In 2011 he gave $1.5 million to the Foundation for Defense of Democracies. In 2013, Adelson contributed $500,000 to United Against Nuclear Iran, almost one-third of its budget that year. He currently serves as a board member for the RJC. The nature of most of these organizations makes it difficult to know exactly where their funding comes from, but from what we do know, it is fair to assume that Adelson and his billionaire friends are driving forces behind this coalition. Like any coalition, its efforts are closely coordinated. And its motivation, while impossible to prove, undoubtedly includes an eagerness to go to war. After all, Adelson said that Obama should drop a nuclear bomb in the Iranian desert and warn Iran that "the next one is in the middle of Tehran."
Because of the Corker Cardin bill, legislation that these organizations helped pass, Congress will soon have the opportunity to vote against the nuclear deal after any final deal is agreed to, and if it does, war with Iran becomes immediately more likely. This powerful coalition is working tirelessly to influence that vote and lead us into another major war in an already war-torn Middle East.