On Steve Bannon, We Draw the Line
It feels overwhelming, doesn't it?
With a new Trump administration I see so many threats: threats to the Iran nuclear deal and the Paris Climate Accord. The threat of thousands of new U.S. troops in Syria. Threats to immigrants, to women, to freedom of the press…
We all know we must organize, but where do we begin?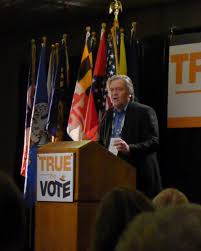 I have a suggestion: Let's start by forcing Trump to withdraw his pick of Steve Bannon a white supremacist, xenophobe just named to co-lead White House operations.
Can you call your members of Congress today? There is already a House letter to Trump opposing the pick so start by calling your House Representative, and then call your two Senators.
Use Peace Action's toll-free number 844-735-1362 to reach the Capitol switchboard and connect with your Representative and Senators. Here's what you can say:
Hello, my name is [YOUR NAME] and I'm a voting constituent calling from [YOUR CITY, STATE].

Please tell Representative/Senator__________ to condemn and oppose the appointment of the blatantly racist Steve Bannon as White House advisor.

Please tell Representative/Senator__________  to make statements in opposition to the appointment to the media and let the President-elect know you oppose the appointment.
Why start with Bannon? This can be a campaign, based in non-partisan moral outrage at blatant racism, that first brings together progressives but can ultimately draw support from people across the political spectrum on all but the farthest of the far right. Bannon's appointment was quickly praised by former KKK Grand Dragon David Duke and American Nazi Party Chairman Rocky J. Suhadya.
The global damage Bannon could do is immense. The Daily Beast reports that Bannon has reached out to other nativist leaders in France, Germany and the U.K. to create a "global ultra-right coalition".
One source close to Trump forces say that "[Bannon's] no isolationist. He favors aggressive military action when required. Bannon is close to retired Army Lt. Gen. Michael Flynn and John Bolton, Bush's ambassador to the United Nations. He bonded with Flynn over their mutual anger with what they saw as the Obama administration's inadequate response to radical Islamic terrorism, one source said." A ramped up military and domestic response that could harm many innocent Muslims is at the center of Bannon's agenda.
Let's draw the line: call the Congressional switchboard at 844-735-1362 and ask your Representative and Senators to condemn and oppose Steve Bannon.
Getting rid of Bannon won't be easy, but this is an early battle that we have at least a shot at winning. Let's force Trump's supporters to defend this pick — or join with us. While there is no confirmation process for White House appointment like this, members of Congress can use their leverage to block the pick in other ways—for example by putting holds on other nominees.
We need to push for bipartisan outcry. Leading Republican voices are opposing this pick. John Weaver, a political advisor to John McCain and John Kasich, said about the Bannon pick  "The racist, fascist extreme right is represented footsteps from the Oval Office. Be very vigilant, America." Conservative pundit Glenn Beck said "When people really understand what the alt-right is, this neo-nationalist, neo-Nazi, white supremacy that Bannon is pushing hard. It's—I hope they wake up."
When Glenn Beck is the voice of reason you know we've entered strange times.
These aren't ordinary times. Ordinarily Peace Action might wait for bad appointments that more directly impact foreign policy like Secretary of Defense and Secretary of State to jump into the fray. We are closely monitoring those appointments and you'll be hearing from us soon on those.
But we feel now is the time for all right-thinking Americans to come together, across issue silos, across party, and draw the line against racism, bigotry and xenophobia.
Draw the line by calling our toll-free number 844-735-1362 to reach the Capitol switchboard today.
Thank you for taking action,
Jon Rainwater
Executive Director
Peace Action
P.S. Obviously we more than have our work cut out for us over the next four years. Can you contribute to this critical work today?
P.P.S. Please pass this call to action on to your friends and family on Facebook and Twitter.