Choosing the Path of Peace in Syria Part Four: Trump's Assad Policy is Still Up For Grabs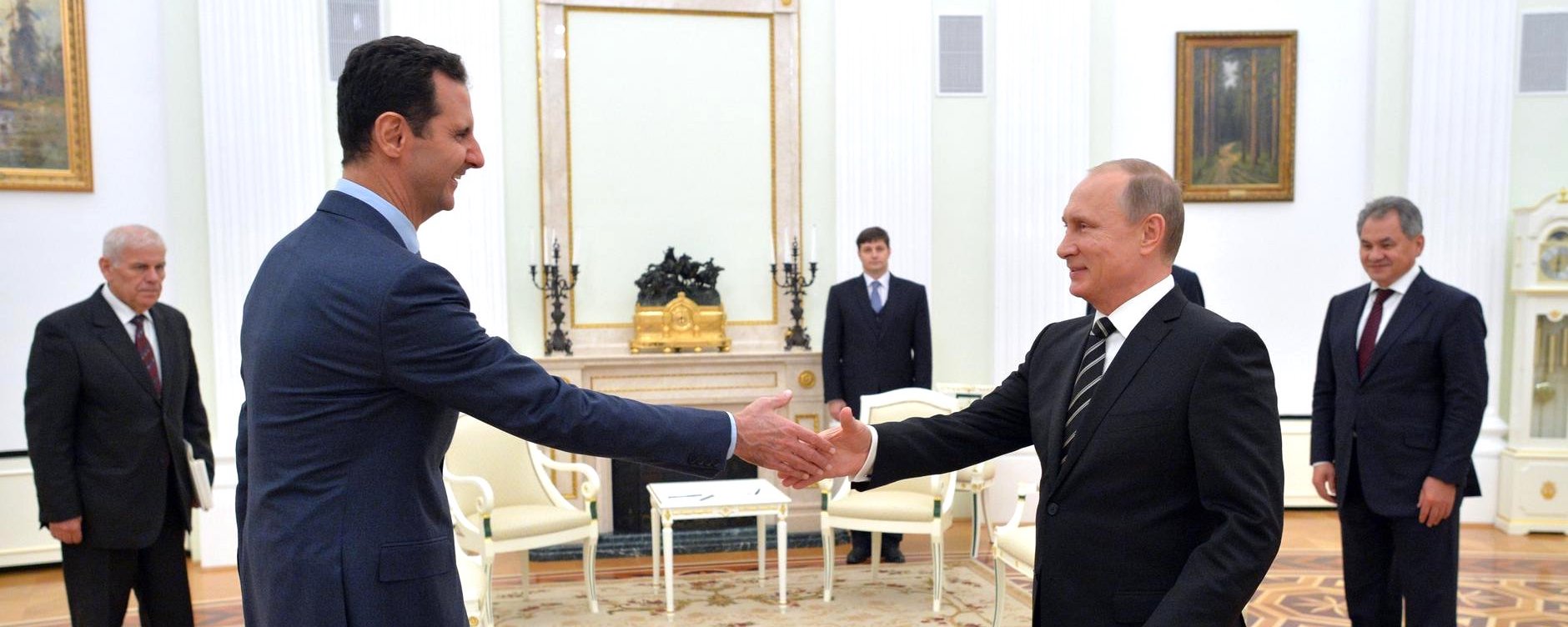 This is Part Four of Peace Action's multi-part series on U.S. Syria policy.
By the time Donald Trump takes the oath of office on January 20th next year, the forces of the Assad government may have begun to consolidate control over western Syria's population centers. That is certainly what Syria and its allies are pushing for in the final weeks of the Obama administration. However, no matter what territory Syria holds on inauguration day, the conflict will likely rage on.
Trump's Syria policy is somewhat of a work in progress. He's called for an escalating air and ground war with ISIS, called for arming the Kurds, and supported a "big beautiful safe zone." Trump has made clear his hesitation to confront the Assad government and Russia over their policies in the Syrian civil war, but he may be pushed by Congress, his own advisors, and a broader group of think tanks and foreign policy elites to take a more hawkish stance.
The Groundwork for Escalation Against Assad
Republican foreign policy leaders in Congress are engaging in a concerted effort to box in Trump on Syria. Senator John McCain, chair of the Senate Armed Services Committee, is pushing back against any rapprochement with Russia over Syria or other issues saying "the price of another 'reset' [with Russia] would be complicity in Putin and Assad's butchery of the Syrian people. That is an unacceptable price for a great nation."
Meanwhile, a bill recently passed the House that puts sanctions on Syrian President Bashar al-Assad and anyone, including Iran and Russia, who help arm Syrian government forces and groups allied with it in the war. Then in yet another effort to push Trump in a more hawkish direction on Assad, language was slipped into the annual National Defense Authorization Act that allows Trump to transfer controversial shoulder-fired anti-aircraft weapons known as MANPADS to the anti-Assad Syrian fighters. These weapons are highly controversial because they pose a serious risk to civilian aircraft if they fall into the wrong hands and as the Washington Post reported, the language "contradicts international guidelines championed by the United States that imply a de facto ban on transferring the shoulder-fired weapons to nonstate actors."
Forces within Trump's own circle may also push Trump to take a harder line with the Assad government. Mike Pence spoke out on the campaign trail in favor of a more aggressive approach to the Assad's forces. Trumps pick for Defense Secretary, Gen. James Mattis, who is hawkish on both Iran and Russia and has blasted their involvement in Syria, has supported arming the anti-Assad Syrian forces. A recent article in Newsweek breaks down some of the opinions of other anti-Assad Trump advisors:
When it comes to Syria, Trump's foreign policy team… includes an eccentric mix of lobbyists and right-wing pundits. One prominent adviser to the Trump campaign is Jack Kingston, a former Republican congressman from Georgia, and he's a paid lobbyist for the Syrian opposition. Trump's list of foreign policy advisers also includes Walid Phares, a controversial Fox News commentator and former member of the Lebanese Forces militia, who regularly castigates the White House for not having intervened early enough in Syria. Phares recently attacked Obama for not having "finished off" Assad during the early years of the war.
Think tanks could also play an important role in shaping the Trump administration's Syria policy. On the conservative end of the think tank spectrum, the Heritage Foundation, which as mentioned in Part Three of this series has reportedly been playing a significant role in the Trump transition team, has opposed diplomatic efforts to address the Syrian civil war and advocated arming Syrian opposition forces in their fight against the Assad government. In February 2016, it published an article contending that "we need to stand up a viable and friendly Syrian force to combat both ISIS and Syrian President Bashar al-Assad, not waste our time on fruitless diplomatic initiatives at the United Nations that serve no purpose other than to offer cover for Russia's backing of Assad." The American Enterprise Institute (AEI), another conservative think tank, has supported bombing Syrian government targets, posting an article in October 2015 that argued, "it is long past time to target rather than give a pass to regime sites, even if symbolic. Assad's palace should be fair game, as should the regime's most notorious prisons." And the right-leaning Washington Institute for Near East Policy argued in October 2016 that the administration should abandon the diplomatic process and "ship more arms to Syrian rebels, including some systems it has sent before (antitank missiles) and some it has not (e.g., 'dual use' heavy antiaircraft guns and MANPADS)."
Politically moderate forces in the world of foreign policy elites have also been mobilizing for military escalation against Assad. In June, the New York Times published a leaked draft of an internal State Department memo reportedly signed by 51 U.S. diplomats (whose names were not revealed) calling on the President to conduct "targeted military strikes" against Syrian government forces in response to continued attacks by the Assad government forces against civilians, and emphasizing the need to "protect and empower the moderate Syrian opposition."
The same day that memo was leaked, a centrist think tank called the Center for a New American Security (CNAS) released a report titled "Defeating the Islamic State: A Bottom Up Approach," which among other policy prescriptions called for "limited military strikes against the Syrian government forces," and "arming and training local groups that are acceptable to the United States regardless of whether they are fighting Syrian President Bashar al-Assad or ISIS."
While most of these forces have been pushing for escalation for years, over the course of the 2016 election cycle, they've gradually shifted their focus away from pressuring Obama and towards laying the groundwork for the next administration to intervene in ways that Obama has refused to.
"Limited Military Strikes" Would Erode U.S. Credibility, Risk Escalation
Advocates of increased military intervention in Syria often acknowledge some of the risks associated with their proposals. But what all of those acknowledgements seem to ignore is just how abundant and likely the risks would be. For instance, what would happen if "limited military strikes" failed to get the point across and Assad's forces continued attacking civilians. Would the U.S. launch a broader air campaign against the Syrian government? If so, at what point would that campaign end? The likelihood that Assad would simply change his tactics overnight and cease bombing civilian targets is next to none, and the prospect of the U.S. ending strikes against the Assad government without concrete results also seems next to none. So in the likely event of a prolonged campaign, at what point does the goal of protecting civilians morph into the goal of regime change, as it did in Libya?
That question brings us to the next major problem with bombing Assad, which is the public perception of such a campaign both in the region and internationally. Thanks to the C.I.A.'s role in ousting the democratically elected leader of Iran in 1953, the U.S. invasion of Iraq in 2003, and the combined effects of a 2011 NATO air campaign in Libya and a U.S. program to arm Libyan rebels (among other U.S.-backed military coups), the entire world, and the Middle East in particular, is wary of the United States' penchant for pursuing regime change wherever a nation's leader threatens American interests. Because of this ingrained perception, any U.S. military involvement against Assad would be seen by many as yet another attempt to create regime change, whether or not that was the intention. Striking Assad would therefore undermine rather than strengthen U.S. credibility in the region and on the world stage, including at the negotiating table, and foment anti-American sentiment across the Middle East. Ultimately, this deeper U.S. military involvement in Syria would be used as a recruitment tool by extremist groups, adding to their ranks and undermining U.S. security interests in the region and at home.
Speaking of undermining American security, not to mention global security, bombing Assad, whether to impose a no-fly zone or retaliate for attacks against civilians with "limited" strikes, would risk military confrontation with Russia. As we discussed in the Part One of this series, in addition to having staked much of its international reputation on its intervention in Syria, Russia has a vested interest in maintaining a strategic foothold there, so the likelihood that Russia would allow the U.S. to bomb its ally without repercussions is abysmally low. If Russia took the "eye for an eye" approach, it could retaliate by bombing American-backed forces in Syria, but proportional responses aren't always a given, and since Russia has already targeted U.S.-backed forces, it may feel the need to send a stronger message. If U.S. strikes against Assad also hit Russian military personnel stationed in Syria, then military retaliation against U.S. forces could arguably amount to a proportional response.
Given the high probability of escalation, and the low probabilities of effectively deterring attacks against civilians and gaining leverage at the negotiating table, who benefits from a U.S. bombing campaign against Assad? Other than the arms industry, extremist groups, and arguably Syrian opposition forces, absolutely no one.
The False Appeal of Arming Syrian Rebels
One of the other common denominators in most of the calls for military escalation in Syria is the call for increased military support for Syrian rebels. The obvious appeal of this strategy, at least from the perspective of many American politicians, is that it sounds like a foolproof way to bring the fight to the enemy, whoever that may be at the time, without risking American lives. However, the history of arming insurgent groups — from the Mujahideen in Afghanistan to anti-Qaddafi forces in Libya to the ongoing Pentagon and C.I.A. programs in Syria — shows that the tactic backfires in one way or another almost every time, often by arming the very groups that actively plot attacks against Americans.
In 2012, the C.I.A. started a covert arm and train program in Syria, code named Timber Sycamore. The Saudis provided much of the arms and plenty of money. The C.I.A. provided training for the fighters in Jordan on the use of firearms, mortars and TOW anti-tank missiles, and then sent them off to fight in Syria. The C.I.A.'s program has been equal parts tragedy and farcical incompetence worthy of the Keystone Cops. This June the New York Times reported that arms shipped to Jordan by the C.I.A. and Saudi Arabia were stolen by members of Jordan's intelligence service and sold on the black market. According to the New York Times, "some of the stolen weapons were used in a shooting in November that killed two Americans and three others at a police training facility in Amman." Arguably more troubling than arms falling onto the black market is the human rights record of some of the forces mentored by the C.I.A. Amnesty International has documented abuses including abduction and torture by the insurgent forces supported by the U.S. and its allies.
In September of 2014, Congress approved a $500 million Pentagon program to arm and train Syrian rebels committed to fighting ISIS. With an initial goal of training 15,000 Syrian opposition fighters, the program got off to a slow start. In April of 2015, Reuters reported that the Pentagon had already spent about $143 million on weapons, ammunition, and other equipment for the rebels before the training leg of the program had even begun. In early July, Secretary of Defense Ashton Carter reported to Congress that at that point, due to the strenuous vetting process rebels had to undergo to receive training, the Pentagon had only trained 60 Syrian rebels, at which point he conceded, "The number 60, as you all recognize, is not an impressive number. The number is much smaller than we hoped for at this point." In late July, when 54 Pentagon-backed fighters became the first Pentagon-trained rebels to enter Syria, they were immediately attacked by Al Qaeda's affiliate, al Nusra Front (which has since rebranded itself as Jabhat Fateh al-Sham), and five of them were captured.
As disastrous as the program had already been, the Pentagon's embarrassment didn't end there. In September 2015, Gen. Lloyd Austin, who commanded U.S. Central Command at the time, admitted to the Senate Armed Services Committee that there were only "4 or 5" Pentagon-backed rebels in Syria roughly one year into the program. Less than two weeks after that hearing, the Pentagon admitted that a second deployment of Pentagon-trained rebels who entered Syria in September gave roughly 25% of their equipment, including ammunition and six pick up trucks with mounted machine guns, to al Nusra in exchange for safe passage through parts of northern Syria. The program was shelved shortly thereafter.
While those calling for increased military support to Syrian opposition forces are usually careful to include a token admission of the risks, they don't come close to acknowledging this deeply troubling history. Rather than attempting to analyze what went wrong in the past and how to protect against repeating those mistakes, all they offer is a unified call to double down on a dangerous and ineffective strategy that has so far done little more than waste taxpayer dollars, arm extremists, and exacerbate the violence and chaos of a devastating civil war.
Part Five of this series will examine the merits and effective methods for pursuing diplomatic approaches to the conflict.
Click here to read Part One of this series: The Siren Song of the No-Fly Zone
Click here to read Part Two of this series: "Safe Zones" Aren't Safe
Click here to read Part Three of this series: The Perils of Another American Quagmire