Let Exxon Keep T-Rex – We Need a Real Diplomat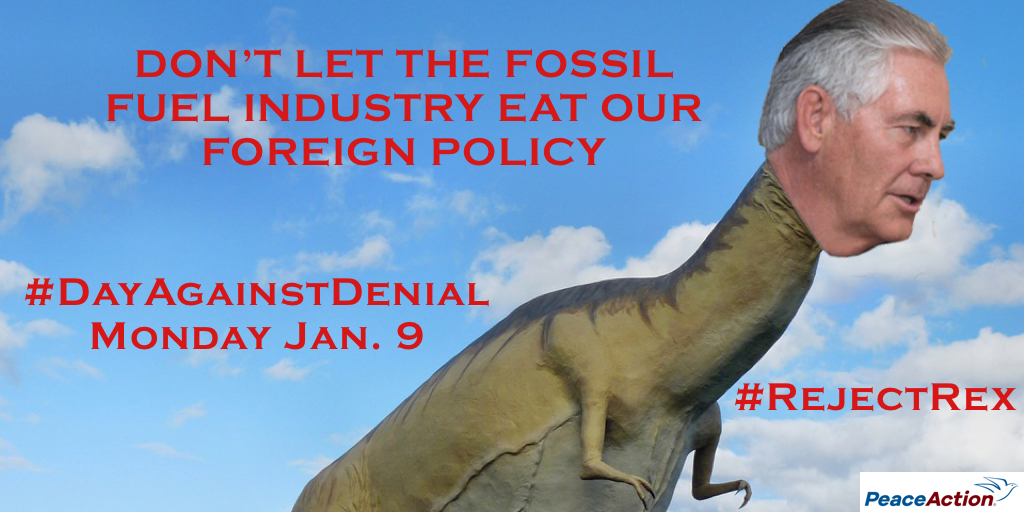 It's time.
Rex Tillerson, the CEO of Exxon Mobil, has a hearing tentatively scheduled for next week before the Senate Foreign Relations Committee where the committee may vote on whether or not to send his nomination to the Senate floor for a final vote on his confirmation.
You and I know what this means… it means our window to take action to stop corporate interests from governing our foreign policy for the next four years is closing.
Now I know what some of you are thinking. Trump is already going to be president, so how could it get any worse. I've felt the same way at times, but the truth is, it can get worse… by letting the CEO of the world's largest oil and gas company run the State Department.
Call your Senators today and urge them to oppose the confirmation of Rex Tillerson as the next Secretary of State. You can use Peace Action's Capitol Hill line: 1-844-735-1362.
For the better part of his life, Tillerson has been working to advance Exxon's interests, even when those interests are in direct conflict with American ones. In 2011, Exxon negotiated a deal with the Kurdish government in northern Iraq to buy its oil, despite American diplomats' efforts to negotiate a plan for sharing Iraq's oil with various factions in the country in an effort to reduce the sectarian tensions driving conflict in Iraq.
In other words, Tillerson put corporate profits over the stated foreign policy interests of the U.S. government, and in the process undermined stability in Iraq.
Under Tillerson's leadership, Exxon has been funding organizations that work to block legislation to address climate change. And despite some reporting to the contrary, Exxon continues to fund organizations that flatly deny the the human role in climate change.[1]
Day Against Denial to Fight Trump's Cabinet – January 9th
On Monday January 9, there will be vigils and protests at district offices of Senators across the country asking them to block Trump's team of corporatists and climate deniers. Can you join Peace Action along and many other progressive groups to fight Trump's Climate Denier cabinet?
Find a Day Against Denial event near you by clicking here.
With Tillerson at the helm, Exxon has had an egregious record on human rights. It established a shipping terminal on Sakhalin island in Russia without consulting with the indigenous population or conducting a mandatory ethnological review. And it accused members of the press who criticized Exxon's climate record of committing the crime of "conspiracy." The Secretary of State has a critical responsibility to respond to human rights violations abroad, and Rex Tillerson simply can't be trusted to respond appropriately.
In order to stop Tillerson, we need to get every Democratic (and Independent) Senator, and at least 3 Republican Senators to vote no on his confirmation. That's a tall order, but it's possible if we stand together and unite against a foreign policy driven by corporate profits and oil.
Please call your Senators right now at 1-844-735-1362 and urge them to oppose Rex Tillerson for Secretary of State.
Thank you for standing with us.
Humbly for peace,
Jon Rainwater
Executive Director
Peace Action
P.S. There will be vigils at Senators' offices across the nation on Monday, January 9. Click here to find out where.
P.P.S. Don't forget to make that quick call to your Senators urging them to oppose Rex Tillerson as Secretary of State. Call the Capitol switchboard and ask for your Senators at 1-844-735-1362.
[1] Climate Change Denial Right at Home at Exxon-Funded 'Shadow Lobby' Meeting, Greenpeace, June 3, 2016