We Are Many
On February 15th, 2003 up to 30 million people, many of whom had never demonstrated before, came out in nearly 800 cities around the world to protest against the impending Iraq War. It remains to this day the largest, global demonstration in human history, by far. I was so proud of the organizing work Peace Action did, turning out our members across the country in Washington D.C., New York, Boston, Chicago, San Francisco, Los Angeles, and more.
From London to New Delhi, Cape Town to Tokyo, it was powerful and it was moving. If you were at one of the demonstrations, you know exactly what I mean.
Now, it is our pleasure to invite you to the North American premiere of a documentary film telling the story of how it all came together. Peace Action is partnering with the WE ARE MANY movie for a unique live-streamed event.
WE ARE MANY is the never-before-told story of the largest demonstration in human history, and how the movement created by a small band of activists changed the world. This fearless, thought-provoking documentary is the remarkable inside story behind the first-ever global demonstration and its surprising and unreported legacy.
Monday, September 21st is the International Day for Peace. This year, we have the opportunity to come together to celebrate peace in a virtual screening of WE ARE MANY at 8:00 p.m. Eastern. This special live-stream event will feature exclusive music performances, and the movie will be followed by Q&A panel discussion including the movie's director, Amir Amirani, cast members, and leaders from key activist organizations.
Tickets are just $12.00, or $7.00 for students and seniors. Help support us by clicking here to purchase your tickets and Peace Action will benefit from a 40% share of ticket sales profits!
Whether you were at one of the demonstrations or not, I promise you will be moved by this film. While history painfully reminds us that the demonstrations failed to stop the war, the generation of activists born out of it remains engaged to this day, continuing the critical work of building the institutional power to stop any future war.
Please join us Monday, September 21st to celebrate the International Day for Peace in a collective viewing of WE ARE MANY.
We hope you'll join us! Please get your tickets today!

The film also features captivating interviews from a stellar cast including Noam Chomsky, Colleen Kelly, Danny Glover, Harry Belafonte, Hans Blix, Rev. Jesse Jackson, Joan Blades, Mark Rylance, Medea Benjamin, and many more!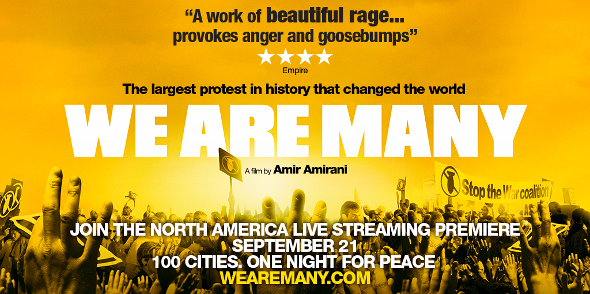 We Are Many
Monday, September 21st, International Day For Peace
8 p.m. ET / 7 p.m. CT / 6 p.m. MT / 5 p.m. PT