Warnock For Congress
Peace Action Endorses Rev. Raphael Warnock
While the presidential race is thankfully over, control of the Senate remains at stake, and will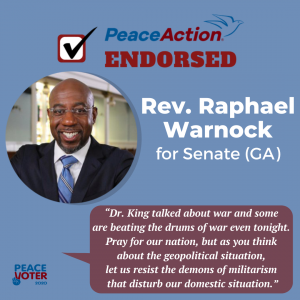 comedown to the results of a special election this January in Georgia. The Senate has been a graveyard for pro-peace legislation coming out of the House these past two years, so the urgency in this election is sky-high. This is the final push, and we need your help to ensure the make up of the new Senate is as pro-peace as possible.
We're thrilled to endorse Reverend Raphael Warnock for the Senate in Georgia. He's running against self-described "conservative Republican" Kelly Loeffler. Loeffler's only been in office since January 6th, 2020 after being appointed to this seat, and has never actually won an election.
This is a very winnable race! 
While in office, Loeffler has regularly boasted about her voting with Trump 100% of the time. Conversely, Rev. Warnock preaches out of the very same church pulpit as Martin Luther King Jr., and couldn't be more different than his pro-war opponent. Rev. Warnock should be a solid pro-peace champion for Peace Action in the Senate, but we need to make sure he gets there. He evokes his worldview around peace and justice issues when he states "Dr. King talked about war and some are beating the drums of war even tonight. Pray for our nation, but as you think about the geopolitical situation, let us resist the demons of militarism that disturb our domestic situation." Help us flip this seat on the way to flipping the Senate with a pro-peace gift for Rev. Warnock today!
There are life and death issues at stake in the Senate. Issues like ending U.S. arms sales and military support to Saudi Arabia for its brutal assault on Yemen. At long last officially ending the Korean War. Reengaging on nuclear issues with Iran and repealing devastating U.S. sanctions. Ending the forever wars in Afghanistan, Iraq, and Syria. Repealing the 2002 Authorization For the Use of Military Force in Iraq. Reversing new nuclear weapons development and adopting a No First Use policy. Cutting massively wasteful Pentagon spending. These are significant votes that could have a profoundly positive impact on millions of lives. Now imagine two more years of trying to meet these challenges and others, like the coronavirus pandemic, racial injustices, climate change, etc. with Mitch McConnell and company in the Senate stalling, obstructing, and blocking EVERYTHING.
It doesn't have to be this way.
Help us send Rev. Raphael Warnock to the Senate! Supporting candidates like Rev. Warnock through Peace Action lets them know that diplomacy and peace issues are a priority that you want to see them take leadership on. Please support Rev. Raphael Warnock today
P.S. We have just a couple short months to do everything we can to send Rev. Warnock to Washington. Your gift today can help ensure we have the biggest impact possible!