Gaza Ceasefire NOW!
It is horrific that Israeli and Palestinian civilians are bearing the brunt of the tragedy unfolding in Israel and Gaza.
One thing is absolutely clear though – neither the terrible attacks by Hamas on October 7 nor the brutal Israeli response in Gaza will bring justice to either Israelis or the Palestinian people.
What we need right now is to prioritize de-escalating the violence, safeguarding people's lives,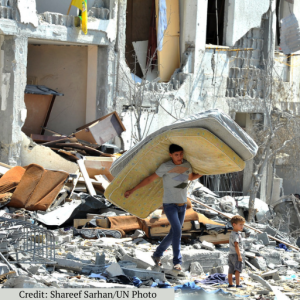 reuniting hostages with their loved ones, and pushing decision-makers to enact solutions that promote the mutual recognition of everyone's humanity.
Since the war began, Peace Action has been calling on supporters to lean hard on your members of Congress asking them to speak out in support of a ceasefire. Now, in part thanks to your efforts, our pro-peace allies Rep. Cori Bush (D-MO) and Rep. Rashida Tlaib (D-MI) have championed legislation in support of a Congressional resolution calling for immediate de-escalation and ceasefire in Israel and occupied Palestine and to send humanitarian aid and assistance to Gaza. Please take a minute now to urge your members of Congress to call for a ceasefire and de-escalation in order to save as many lives as possible!
Some in the Biden administration and in Congress have called for a humanitarian "pause" in the fighting. This is a wholly inadequate measure to truly protect civilians and to provide needed supplies of food, water, and medical supplies to address what has rapidly become a humanitarian catastrophe.
What is needed is a ceasefire – NOW! Please urge your Members of Congress to stand with the movement to bring LASTING peace and human rights to the people of Israel and Palestine and to support critical legislation calling for an immediate de-escalation and ceasefire in Israel and occupied Palestine.
A recent poll conducted by Data for Progress found that 66% of Americans overall support a ceasefire and de-escalation to prevent further violence and civilian deaths. We need our elected officials to support an immediate ceasefire in order to save as many civilian lives as possible. Israel receives billions every year in U.S. military aid and is likely to receive billions more to support its war on Hamas. The United States therefore bears significant responsibility for Israel's conduct in this war. Please contact your Members of Congress today and urge them to support the Ceasefire NOW resolution.
The Israeli military has cut off access to food, water, and electricity for civilians, in violation of international law. They've ordered millions to evacuate northern Gaza, an order that the United Nations immediately said would be "impossible" to accomplish "without devastating humanitarian consequences." Israeli President Benjamin Netanyahu declared that "an entire nation" was responsible for Hamas's attacks, words that seemingly aim to justify collective punishment in retribution.
Meanwhile some elected leaders in the U.S. — including Republican members of Congress — have backed calls to "level" Gaza and "turn it into a parking lot."
We need to do all we can to stand up against this kind of rhetoric, and to stop further escalation from costing the lives of more children and families.
A true ceasefire is critical to allow for the entry of humanitarian assistance into Gaza, where over two million Palestinians — half of whom are children — have no access to food, water, or humanitarian aid. Please urge your Members of Congress to support the Ceasefire NOW resolution today!
Note:
If your representative is André Carson (IN-07), Summer Lee (PA-12), Delia C. Ramirez (IL-03), Jamaal Bowman (NY-16), Bonnie Watson Coleman (NJ-12), Jesús "Chuy" García (IL-04), Jonathan Jackson (IL-01), Alexandria Ocasio-Cortez (NY-14), Ilhan Omar (MN-05), Ayanna Pressley (MA-07), Nydia Velázquez (NY-07), Barbara Lee (D-CA), Pramila Jayapal (D-WA), Greg Cesar (D-TX), Alma Adams (D-NC), or Maxwell Frost (D-FL) please thank them for their leadership as early co-sponsors to the bill; as well, if your rep. is Cori Bush or Rashida Tlaib, please thank them for championing this critical effort for peace.
There is currently no companion Ceasefire NOW legislation in the Senate. When contacting your members of Congress, be sure to urge your Senators to take crucially needed pro-peace leadership and sponsor a similar bill in that chamber.