No Soldier Left Behind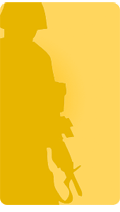 Help us end the occupation of Iraq and restore the American economy
Your signature will be delivered to the next president as part of our No Soldier Left Behind campaign.

No Soldier Left Behind is a campaign promoting a comprehensive plan to end the war in Iraq and improve the security and well being of Iraqis and Americans. This means making truly effective investments in political, economic and diplomatic strategies. But our first step must be to bring every soldier home, and end the failed occupation of Iraq.

More than five years into the war, Iraqis still lack basic services like electricity and running water, and the fractured government has made little progress toward political reconciliation. Meanwhile, Americans are investing billions of dollars in a failed policy while facing our own economic downturn. The war in Iraq has not delivered on promises of increased security and stability for Iraqis or Americans.
By adding your signature to the petition here you will help ensure that ending the occupation of Iraq and restoring the American economy, stays on the top of the next presidents priorities.