Join us March 5: Creative Tactics for Tax Day Organizers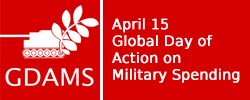 April 15, 2014
Tax Day: Global Day of Action on Military Spending
Move the Money!
April 15 is Tax Day, a day to reflect on how Congress spends our tax dollars. We are also reminded that not all are paying their fair share. As economic inequality grows, we need a Congress who makes the hard choices on federal spending priorities. It is time to Move the Money from the wasteful Pentagon budget to fund jobs and community services.
April 15 is also the Global Day of Action on Military Spending when community, economic justice, faith, labor, environmental and peace groups will gather in their communities on every continent to call attention to the domestic impact of money poured into military arms and war preparation by governments across the globe while urgent human needs go unmet. Read a roundup of the 2013 US activities here.
The New Priorities Network, one of the supporters of the April 15 Tax Day/GDAMS activities is sponsoring a briefing:
Wednesday March 5 at 8pm EST
Explore  creative tactics for local actions on April 15 Tax Day/GDAMS 
with Beautiful Trouble's Nadine Bloch. 
Conference call number: 712-775-7000 Code: 637020#
Other webinars are being planned: March 19 at 7pm EST: Webinar on Federal Budget 101 and Taxes with National Priorities Project, Wand/WILL & Peace Action. A webinar on the Overseas Contingency Operating (OCO) account with Stephen Miles from Win Without War. The OCO (separate from the Pentagon budget) continues to grow even as the wars are beginning to wind down. It amounts to a slush fund to blunt the impact of budget cuts. While the wars are winding down, the OCO is bumping up!
More info on US Tax Day/ Global Day of Action on Military Funding at http://demilitarize.org/
If your group is already planning event, please post the details here so others can join. Or email jleblanc@peace-action.org.