2014 Global Day of Action on Military Spending: Move the Money!
Fourth Annual Day of U.S. Actions 
By Judith Le Blanc, Field Director, Peace Action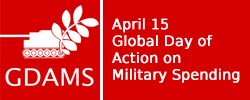 Over 80 activities were organized, for the 2014 Global Day of Action on Military Spending (GDAMS) in the U.S. GDAMS has become an annual day of U. S. action, part of the ongoing national effort to build a movement strong enough to "move the money" from the Pentagon and wars to fund jobs and public services.
U.S. organizers used U.S. Tax Day as a media hook and opportunity to engage the public in a dialogue on how national governmental taxes are spent by pinpointing the Pentagon budget and wars as a drain on the resources urgently needed for economic security in our communities and to address pressing global problems.
This year, the annual activities targeted the U.S. Congress with grassroots political pressure. The popular education methods, the street visibility actions and media work emphasized the connection between a militarized national budget with a militarized U.S. foreign policy. Without an informed public, fundamental shifts in government policy, foreign or domestic, are impossible. GDAMS is also an important tool to connect the ongoing social justice organizing in the U.S. with solidarity with peace and disarmament movements around the world.
From "penny polls" on city streets and at post offices where pedestrians were asked to share their opinions on national governmental spending priorities to public forums and Congressional town hall meetings the message was clear: it's time to change national governmental spending priorities from wars and weapons to jobs creation and public services.
Read what the "penny poll" participants said in New Hampshire and in Austin, Texas. about national governmental spending priorities.
In Eugene, Oregon, Community Alliance of Lane County, (CALC), Eugene Springfield Solidarity Network-Jobs With Justice (ESSN), Women's Action for New Directions (WAND), Taxes for Peace Not War, Industrial Workers of the World (IWW), Veterans for Peace asked their community to voice how they would spend their tax dollars. The results were: 42% for Human Services, 31% for Infrastructure/Environmental Services and 1 % for Military: Present & Past.
"If Eugeneans were in charge in Washington, D.C., things would be radically different — our tax dollars would be fighting climate change and not endless war", said event organizer Michael Carrigan of CALC. An opinion article by the organizers was also published in the local newspaper, The Register-Guard entitled, "Move tax dollars from Pentagon back to people."
In Boston, Massachusetts, on April 12, the Budget for All Coalition organized a visibility action at the Bank of America followed by a forum with 200 people. Both events touched on the need to close corporate tax loopholes and tax the 1% as well as redirect Pentagon spending to domestic needs.
In northern California, the New Priorities Campaign (NPC) organized for the fourth year in a row, a distribution by 24 organizations of 15,000
brochures on excessive U.S. military spending at 34 rapid transit light rail stations in both the East Bay and San Francisco. NPC asked organizations to adopt a station.  Each year the number of stations covered and number of brochures distributed has increased.
In Bethesda, Maryland, Representatives of the Fund Our Communities Maryland coalition co-lead by Montgomery County Peace Action and Progressive MD, "flew" an F-35 aircraft to celebrate Tax Day. The plane fell apart—exhibiting the absurdity of using our taxes on a plane that doesn't work and will end up costing $1.5 trillion. The action was part of the ongoing local campaign to hold Lockheed Martin accountable on local and state tax issues and to advance " defense industry transition" state legislation.
In Saint Louis and Clayton, Missouri, Missouri Pro-vote hosted events with the Peace Economy Project, Women's International League of Peace and Freedom and Veterans for Peace conducting a "chalk-talk" using sidewalks as a blackboard with concise messages about national governmental budget trade-offs.
Events were held in Richmond, Virginia; Cincinnati and Cleveland, Ohio; Charleston, West Virginia; Superior, Wisconsin; Duluth, Minnesota; Buffalo, New York; Los Angeles, California; Bay Ridge and Staten Island, New York; Dallas, Texas; San Jose, California; Kansas City, Missouri, Pittsburgh and Philadelphia, Pennsylvania, Indianapolis, Indiana; Royal Oak, Michigan; Des Moines, Iowa; Greensboro, North Carolina; Bath, Maine and many other small towns and big cities reflecting the commitment of local economic justice and peace groups to build a national consensus that we must "move the money from the Pentagon to fund our communities!"
U.S. Congress heard GDAMS!
In some areas, vigils and informational leafleting were done outside of Congressional offices, while in other areas Congressional representatives or their staff participated. In Boston, Massachusetts, U.S. Senator Elizabeth Warren and former Congressional Representative Barney Frank sent video greetings to the GDAMS Budget for All forum.

On April 15, Women's Action for New Directions/WiLL released a letter sent to U.S. Congress signed by 290 women state legislators calling on the Congress to cut the Pentagon budget to fund human needs.

On April 12, in Washington, D.C sixty five youth from across the country came to D.C. for a film festival and leadership training on national budget priorities. This annual event has become the Capitol Hill visibility event for the U.S. GDAMS actions.  The "If I Had a Trillion Dollars" youth film festival had its world premiere screening at Busboys and Poets on April 13.  On April14, the youth had meetings at the Congressional offices of U.S. Senators Portman (OH), Blunt (MO), Kirk (IL), Durbin (IL), Gillibrand (NY), Casey (PA), Toomey (PA) and U.S. Representatives Becerra (CA) and Coble (NC).
U.S. GDAMS goes cyber!
Social media was used creatively to engage, mobilize and educate.Network, the Catholic social justice group, collaborated with GDAMS with a social media campaign to show how local activists want their tax dollars spent. Hundreds of people including 2 Congressional representatives sent photos in. 
Groups contributed social media memes and organized a Thunderclap, which had a social media reach of 272, 955 people. Twitter was used to mobilize and even report on the days activities in real time.
Here is a sample Tweet from April 14: "Students from SFSU took #GDAMSbayarea brochure, happy to share info. #GDAMS #movethemoneyhttp://twitpic.com/e15jsa"
GDAMS in the news
The National Priorities Project was the "go to" resource for research, materials and media efforts. As a nationally recognized institution their commentaries and comments on Tax Day appeared in a cross section of traditional and online media from Boise, Idaho to Tucson, Arizona to Cape Cod, Massachusetts to the Wall Street Journal Market Watch to Al Jeerzera-America. We were able to track 43 articles, radio, blog and TV appearances.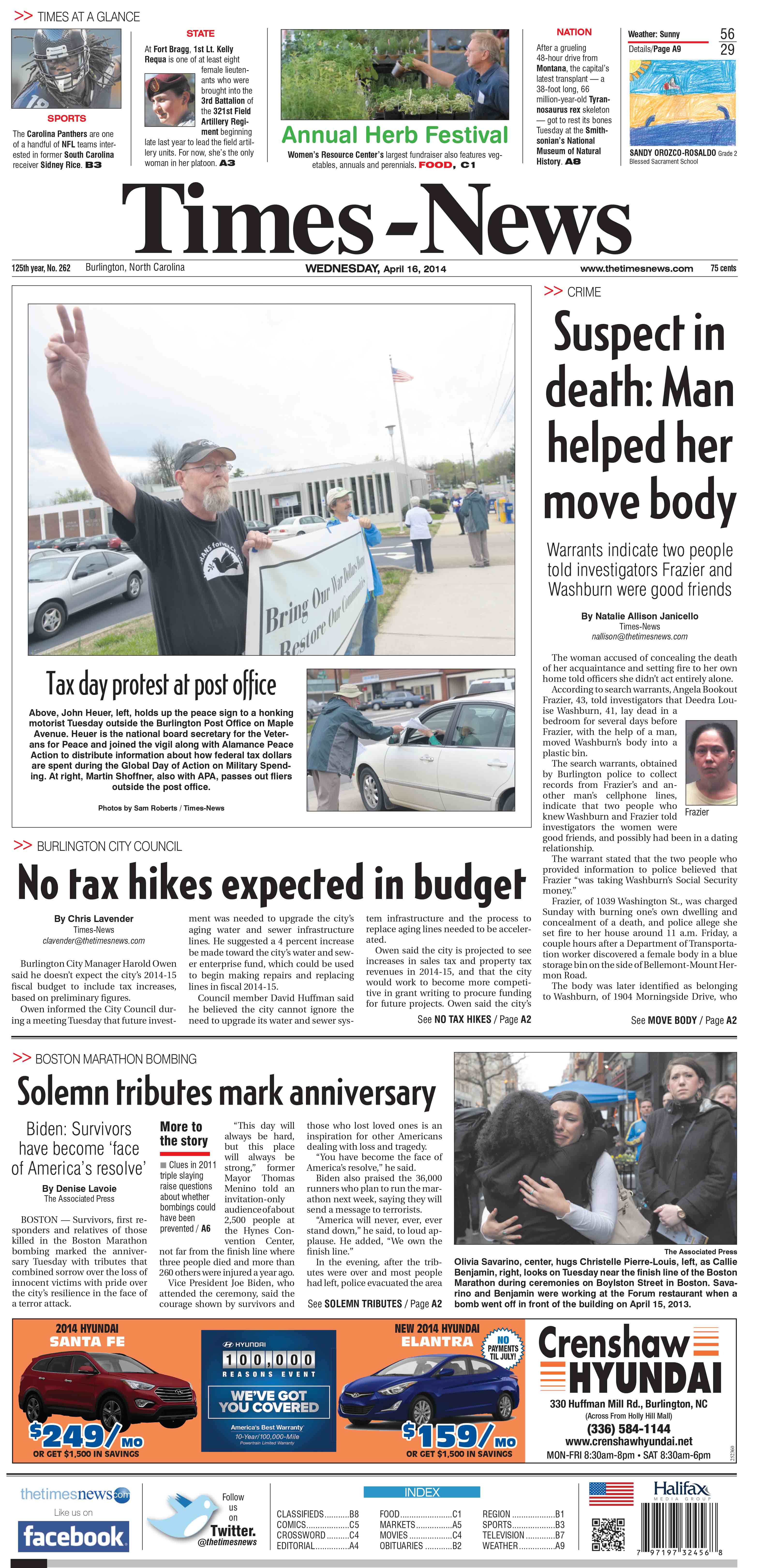 Some local actions got front page in their town newspaper like Burlington, North Carolina's The Times-News and many areas had letters to the editor, opinion pieces and radio.
A National Infrastructure for Local Action
Local organizers sparked community actions supported by a national infrastructure of organizations that are committed to supporting the growing of a national grassroots infrastructure for the long-term.

In 2014, national sponsoring groups agreed to host a series of webinars and training opportunities to build local organizing capacity in 2014 and continue to build the "move the money" movement.
Starting in early March, four webinars/conference calls were organized which engaged from 20-100 local and national organizers in trainings on creative tactics with a contributor to Beautiful Trouble, a national budget review with National Priorities Project, a special review of the Overseas Contingency Operation budget line item or what has been called , the Pentagon's "Slush Fund" and a briefing on how to use social and traditional media for local actions conducted by the Pentagon Budget Campaign.
Templates for leaflets, fact sheets, organizing tool box, state tax receipts and even more were made available on the global GDAMS website. Montgomery County, Maryland Peace Action that has been locked in battle with the greedy Lockheed Martin defense contractor for years, created a "Mockery Newspaper" to bring a smile or a howl.
Looking ahead, GDAMS offers the best and most exciting opportunity every year to link foreign and domestic policy with global solidarity actions around the world.
U.S. groups sponsoring Tax Day/GDAMS events: Alliance for Global Justice, American Friends Service Committee, CODEPINK, Fellowship of Reconciliation, Foreign Policy in Focus, Friends Committee on National Legislation, National Priorities Project, National War Tax Resistance Coordinating Committee, Peace Action, Progressive Democrats of America, United for Peace and Justice, USAction, US Labor Against the War, War Resisters League, Women's Action for New Directions & Women's Legislators
The author, Judith Le Blanc, Peace Action's Field Director  was the U.S. coordinator for GDAMS. 2014 GDAMS was a grand success due to the special efforts of  American Friends Service Committee's Mary Zerkel, National Priorities Project's Jo Comerford, Foreign Policy In Focus intern Ved Singh and the incredible leadership and staff of the International Peace Bureau, Colin Archer and Mylene Soto.