Breaking News and Perspectives on Iraq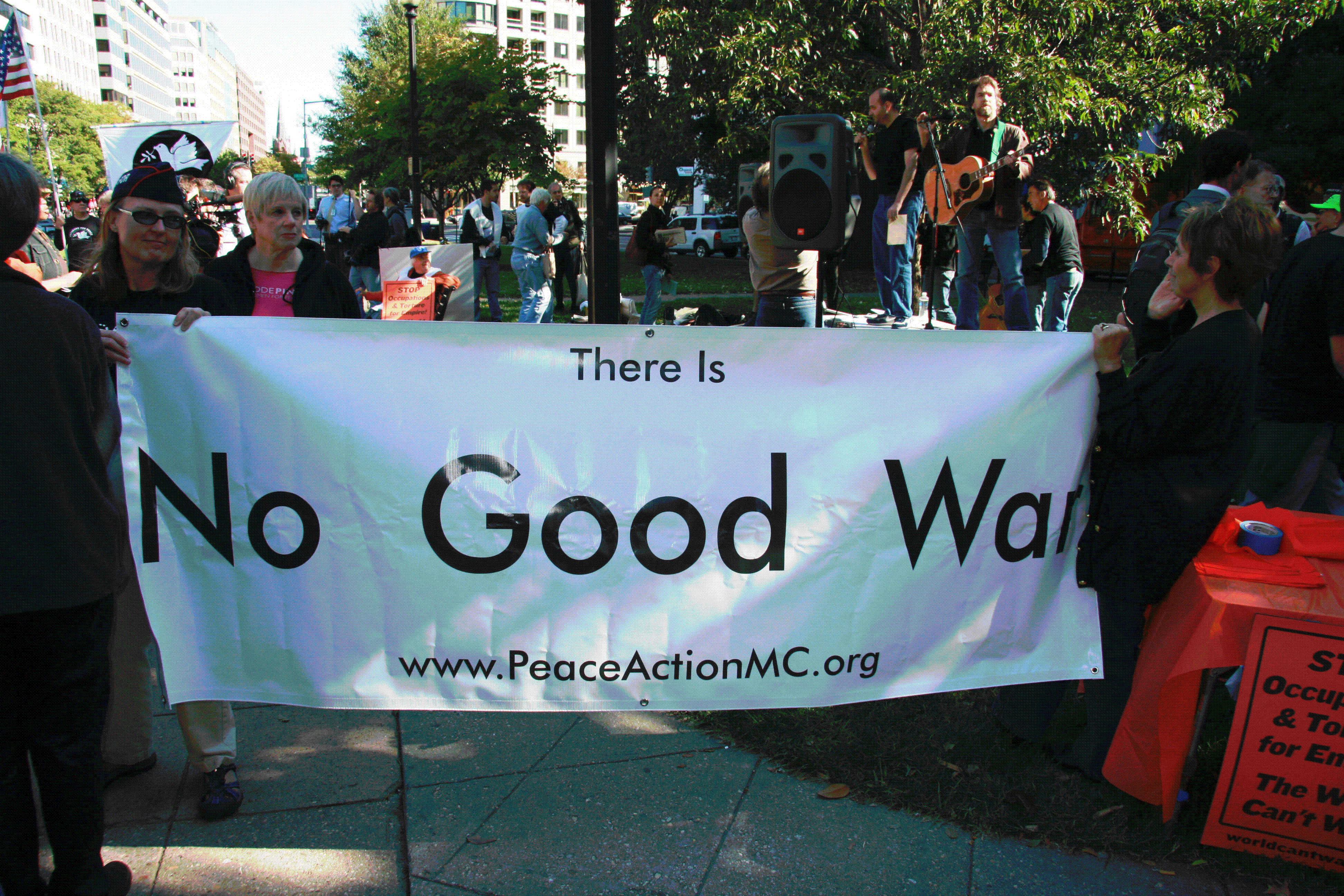 President Obama just spoke on Iraq, here are some points from Win Without War, a coalition Peace Action helped found to oppose the Iraq war in 2002:
Moments ago, the President finished a brief press conference in which he discussed the situation in Iraq. He announced that the US would be sending up to 300 special operations forces as advisors to Iraq (they will reportedly be broken into teams of 10-20 and forward deployed with Iraqi units). He also stressed that the US is now ready to make 'limited, targeted' air strikes if the situation the ground dictated it. While the President also made several positive statements stressing his opposition to 'ground troops' and that this remains an Iraqi problem that will require an Iraqi solution, we are troubled by some of these developments.
Here are our top line message responses.
This is a dangerous escalation of US military involvement in a problem the President himself has said has no military solution. It is also a dangerous retreat from the conditions that the President set for US engagement
What in needed in Iraq is a political solution, and any US support must only be made after changes to the policies of Prime Minister Maliki that are fueling sectarian tensions and growing this conflict.
History has shown that advisors can become ground troops, despite the best intentions.
President is still threatening airstrikes which would be counterproductive and firmly make America part of what is a growing Iraqi civil war.
President Obama needs to listen to the American people who do not want to restart the Iraq war.
Longtime Peace Action board of directors member Lauri Kallio of Albuquerque wrote this summary yesterday, which prompted a thoughtful reply by Bj, an activist with our Sacramento chapter:
President Barack Obama's initial statement on the insurgency in Iraq was that all options are open. All options would include boots on the ground and bombing, with nuclear bombs not being ruled out. Later, Obama specifically excluded sending U.S. troops in, but reports were that the White House was mulling over the bombing option. Bombing attacks would would almost certainly produce noncombatant casualties and would likely provoke Sunni anger over the U.S. siding with the increasingly Shiite-dominated government. On June 16, media reports were that 100 Special Forces troops would be sent in to train Iraqi security forces.
President Obama also said that U.S. military aid would be premised on Iraqi government assurances to make political accommodations to relieve Sunni and Kurdish grievances about being largely excluded from power sharing. The U.S. troop surge well into the war was primarily designed to achieve some 18 socioeconomic and political goals — some hard to measure. I wrote a piece in my almost daily logbook on the war in Iraq, sometime after the surge took place, in which I demonstrated that there had been little or no progress on the goals, particularly on the two key goals of resolving Kurdish territorial land claims and an equitable sharing of oil revenues. The failure to resolve land claims alienated the Kurds and the failure to craft a plan to share oil revenues disadvantaged the Sunnis the most.
Staying with the theme of the futility of relying on the Iraqi government to become more inclusive,shortly before the troop surge took place, the U.S. began paying stipends for Sunni tribal groups to fight al-Qaeda in Iraq  Later, Prime Minister Nuri al-Maliki was to strike a major blow against the Sunnis by cutting off the stipends.
When Nuri al-Maliki achieved his latest grip on power, his faction actually received fewer parliamentary seats than a competing faction led by a former foreign minister of Iraq; however, by more adroit political maneuvering, al-Maliki made deals with other small political factions to be elected prime minister.
After al-Maliki consolidated political power, he began a campaign to discredit the Sunni vice president, culminating in a murder charge for running a death squad, causing the vice president to flee the country.
Reports coming out of Baghdad form a pretty consistent picture of Prime Minister al-Maliki building an increasingly Shiite-dominated regime; thereby making it a naive move on the part of Obama to trust any promise of a more politically inclusive regime in Iraq.
If the argument is made that we must come to the aid of a democratically elected government in Iraq, given the extreme weakness of the Iraqi parliament and the ability of al-Maliki to rule largely by decree, the aid-to-a-democracy argument becomes very suspect.
If the argument is made that the U.S. should supply more arms to help the Iraqi security forces fight the insurgents. the last major clash should give one pause. Reports are that 30,000 Iraqi troops fled when confronted with 800 armed insurgents. Many of the fleeing Iraqi troops discarded their uniforms in the apparent hope that having no uniforms would save their lives if they fell into the hands of the insurgents. The insurgents found themselves with a yet-to-be-determined cache of U.S.-supplied weapons.
The word that the  U.S. may send in 100 Special Forces to train Iraqi security forces hinges on the absurd. Not only have Iraqi security forces failed to stand up to numerically inferior insurgent forces, but they have not been able to stop the ongoing mass violence against Iraqi citizens since the U.S. forces left.
U.S. training of foreign military forces has been a history of failure over the past half-century. After years of the U.S. training the South Vietnamese military, it quickly crumbled before the invasion of North Vietnamese armed forces. Part of the mission of the U.S. Marines sent into Lebanon by President Ronald Reagan was to train forces deemed favorable to U.S. interests. That training was washed away in the chaotic and very destructive civil war that raged in Lebanon. Central and South American military personnel schooled at the School of the Americas — since renamed — went back home and many committed atrocities against the very citizens they were committed to protect. We haven't seen the final result of the long period of U.S. training of Afghan recruits; however, what we know of it shouldn't inspire much confidence. Ann Jones, who taught school in Afghanistan for six years and was still there in 2009 to witness U.S. training methods, said of the 2009 incursion into Helmand Province that it consisted of 4,000 U.S. and allied troops and only 600 Afghan security forces, some of them police forces. Jones said she didn't know of a single Afghan who had seen a 90,000 man Afghan army, as claimed by the U.S. in 2009. She even suggested tongue-in-cheek that it probably consisted of one man enlisting for training 90,000 times. Ann Jones personally knew of a number of men who went through the training, went home and went through again under another name. She was also convinced that Taliban men would go through the training course to learn of U.S. military tactics and also get a paycheck.
Overall, it would seem that all U.S. military options in Iraq are fraught with disaster. Diplomacy and a political settlement have also been suggested; however, I don't see the U.S. as having the leverage to achieve a settlement. Realistically, we in the United States must come to the realization that there are situations in nation states that the intervention of the mighty U.S. military machine will only worsen the situation, and we shouldn't set ourselves up for the burning we will get by setting the fires.
Unfortunately, the U.S. cannot serve as a role model for the world, given that we have attacked at least one nation that hasn't attacked us in every decade since World War II. Youngsters just entering their teen years have never known a time when we were not at war and many have lived through two major wars.
Although I am generally opposed to dividing the world into smaller political enclaves of people based on religious or ethnic identification, perhaps the best solution would be for the U.S. to propose and work for splitting Iraq into Shiite, Sunni and Kurdish political divisions. The Sunnis and the Shiites are at one another's throats. The Kurds are largely autonomous in their own territory, even making their own oil concession deals, despite incurring the wrath of Prime Minister Nuri al-Maliki.
###
The US/Iran situation since the ouster of the Shah in 1979 has been ridiculous and I am very much in favor of a rational and pragmatic relationship between the US and Iran. That said, with regard to Iraq, things may not be so simple.
Also with regard to dividing Iraq among the sectors (Shi'a, Sunni and Kurd — who are mostly Sunni by the way) things are also not that simple. Between 1991 and 2003, those divisions were encouraged and promoted by the US through the Northern (Kurdish area) and Southern (Shi'a area) No Fly Zones during the 13 years of intense sanctions. Saddam Hussein was essentially restricted to the central, Sunni-Shi'a mixed, part of the country. And during the 2003-11 invasion and occupation, those divisions were also encouraged and promoted, it seems.
Were the Kurdish region of Iraq to get full nation status, a bloody chain reaction would likely follow as the Kurdish military attempted to expand into those parts of Syria, Turkey, and Iran which have significant Kurdish populations — widening and deepening an already very destructive situation in the region. It may happen, but it is not something that we should encourage.
I highly recommend watching today's Democracy Now. The after-headlines-segment is with UN Special Envoy Lakhdar Brahimi. It is long, but his insights are so valuable to understanding the situation.  Below is an excerpt (my bolds). Bj
NERMEEN SHAIKH: Ambassador Brahimi, on the question of sectarianism, there have been several reports that suggest that in the initial days of the Iraq invasion in 2003, there were some neoconservative members of the Bush administration that actively fostered sectarianism between Sunnis, Shias and Kurds as a way of—as a policy of kind of divide and rule. Could you comment on that?
LAKHDAR BRAHIMI: … President Bush had given full, total responsibility to the Pentagon over Iraq. What was discussed there and what they did there, I don't know. But as somebody from the region just looking at what was actually taking place, it was extremely hard not to believe that sectarianism was being promoted and that the people that were being put in charge were—I mean, of course the Kurdish region was given to Kurds 100 percent, and no—the rest of the Iraqis had no part in it. But in the rest of Iraq, the impression one had was that the people that were preferred by the occupying powers were the most sectarian Shia and the most pro-Iranian Shia, so, you know, that Iran—that Iraq is now very, very close to Iran. Again, from the point of view of somebody who looks at things from outside, I have absolutely no knowledge of what went on in the high spheres of power in Washington. The impression we had is that these people were put in charge either out of total ignorance—and that is extremely difficult to accept—or intentionally. But the fact is, you know, that the system that was established was very sectarian.