Continuing the Peace and Planet Momentum!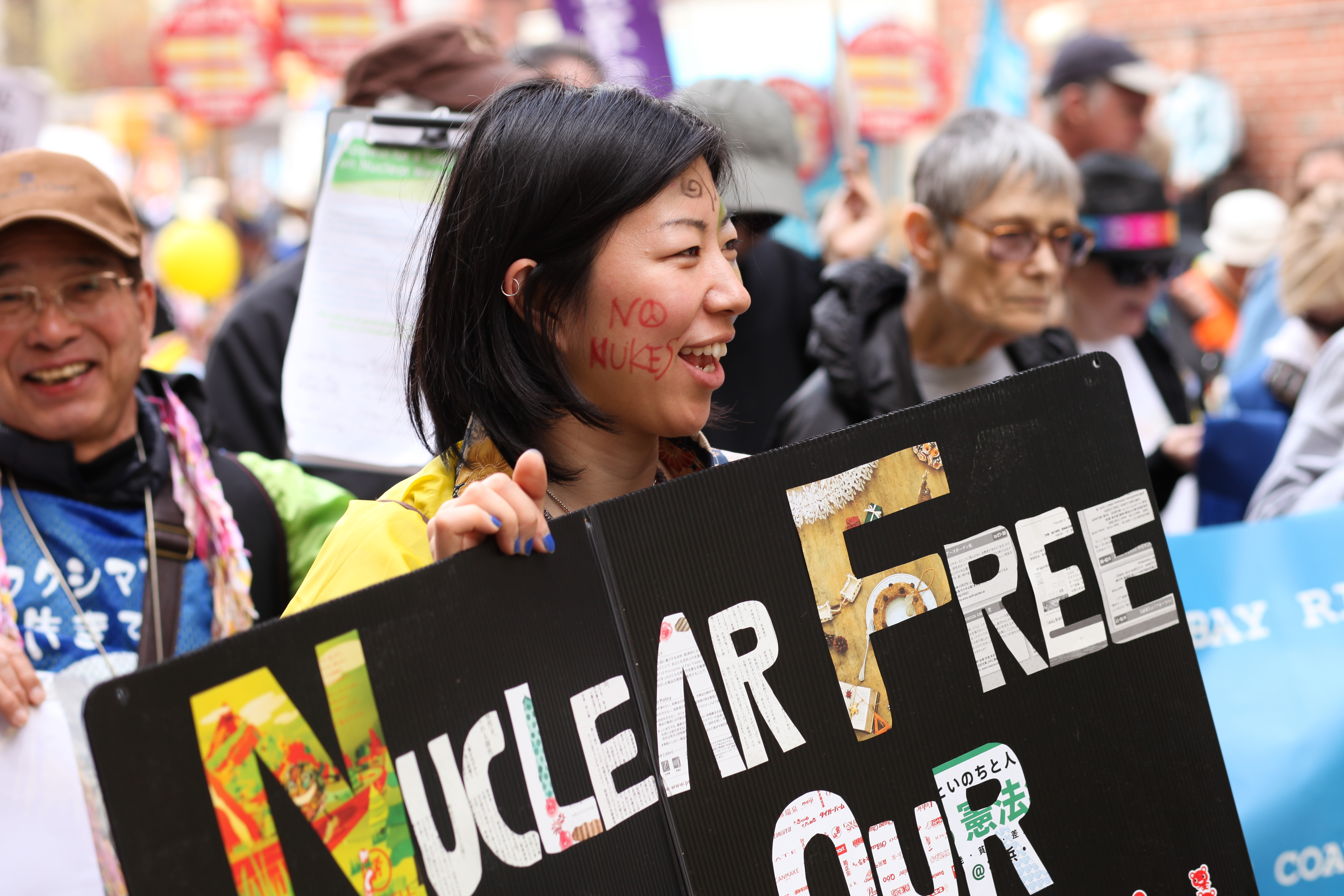 As the NPT Review Conference continues in New York, Peace Action and our allies continue to monitor the debates and proposals by participating governments (the Reaching Critical Will project of the 100 year old Women's International League for Peace and Freedom is a good resource on NPT happenings), but we are also looking to future collaborations under the Peace and Planet banner to connect peace and nuclear disarmament issues to economic, racial and climate justice concerns.
Here is an early proposal for future work, and also a report on our events. Comments welcome as always.
May 1, 2015
PROPOSAL FOR THE CREATION/CONTINUATION OF AN ABOLITON 2000 PEACE & PLANET CAMPAIGN
This is a hastily written proposal urging that the 2015 Abolition 2000 Annual General Meeting authorize the creation/continuation of a Peace & Planet Campaign as a project of Abolition 2000. As described below, the international planning group for the 2015 NPT Review, initiated at the 2014 A-2000 annual general meeting fulfilled its mandate, in the course of which it took important steps in building a more issue-integrated international movement, created expectations, and forged relationships which can be the foundation for longer-term movement building for nuclear weapons abolition and related issues. As the press has reported, "Peace and Planet showed the commitment of international civil society to peace and disarmament, as thousands of people from around the world gathered in New York on the eve of the NPT RevCon,"
The 2014 Mandate
The 2014 A-2000 annual general meeting charged co-conveners Joseph Gerson (AFSC,) Jackie Cabasso (WSLF, UFPJ & Mayors for Peace,) and Judith LeBlanc (Peace Action) who was later replaced by Kevin Martin of Peace Action to- based on criteria established at the A-2000 AGM – create an international coordinating committee to implement the following
a. Organizing an inclusive* international Nuclear Weapons Abolition conference on the eve of the Review Conference
b. Organizing an inclusive mass rally and march on the eve of the Review Conference to demand nuclear weapons abolition, peace and justice – including reducing military spending and the funding of essential human needs
c. Organizing an inclusive peace festival at the conclusion of the rally and march
d. Facilitating organizing by the rising generation of young nuclear abolitionists
e. Facilitating delivery of millions of Japanese petition signatures urging negotiations without delay for a nuclear weapons abolition convention
f. Facilitating the organization of an international interfaith service on the eve of the Review Conference
g. Facilitating the visits of Hibakusha and international peace activists to communities in the United States to encourage nuclear weapons abolition organizing.
h. Explore addition nonviolent actions, bold and otherwise, that can reinforce our demand for nuclear disarmament
i. Engage the climate change and other movements, and make outreach to the rising generation of activists a priority.
Summary of Implementation
1 . An International Planning Group comprise of representatives from 11 international organizations and 42 organizations based in 12 countries was created. Efforts were made to create a diverse planning group. It issued our Call to Action on Step. 26, 2014, the first International Day for the Total Elimination of Nuclear Weapons urging the 2015 NPT Review Conference to mandate the
commencement of the "good faith" negotiations required by Article VI of the NPT. Recognizing the need overcome the siloing of our and other movements in order to build more issue integrated movement the Call urged "all people who hope to build a fair, democratic, ecologically sustainable and peaceful future to join us. A petition based on the Call to Action was developed (used mainly by groups in the US,)
Numerous in person and conference call meetings of the International Planning Group's coordinating and advisory committees, subcommittees and working groups were held to plan what became the Peace & Planet Mobilization. Short-term staff were hired by AFSC, UFPJ and Peace Action to help implement the mobilization.
2. A unique dimension of the Peace & Planet mobilization was its engagement with related peace, economic and social justice and environmental movements. To greater and lesser degrees they were represented on the coordinating and advisory committees, gave input into the shape and content of our events, held Peace & Planet events of their own and assisted in outreach and implementation. While the depth of these new relationships should not be overstated, they do provide an additional new foundation for our organizing and campaigning. With care and reciprocity, they can be built on for the longer-term.
3. Early on, both to engage younger activists and for general mobilization, we put a high priority on social media. In addition to creating our Peace & Planet web page and Facebook page, we initiated a "Fact Countdown", sending out a compelling fact or quotation that addressed each of our five themes (nuclear weapons abolition, peace, moving the money, environmental sustainability and racial justice/opposing police militarization.) A social media subcommittee, comprised almost entirely of young activists helped to build the mobilization via twitter, Instagram and Facebook. The AFSC also created a remarkably 2 ½ minute video which focused on the role of young people in the nuclear disarmament and other movements which was circulated widely via social media.
4. An International Conference for a Nuclear-Free, Peaceful, Just and Sustainable World was held at the Cooper Union in New York City, April 24-25, with about 600 participants. Plenary speakers included: Angela Kane, Taniguchi Sumiteru, Setsuko Thurlow (Japanese Hibakusha) Daniel Ellsberg, Prof. Zia Mian, Walden Bello, Jo Comerford Manuel Pino, Rev. Osagyefo Sekou (Ferguson) Yoshiko Kira (Diet member from Japan,) Tony de Brum (Marshall Islands Foreign Minister) Mayor Thore Vesby, Mayors for Peace Vice President, Bill Kidd (Scottish Assembly,) Shin Jin Tae, Reiner Braun, Thomas de Toledo, Michael McPherson, Kyoko Nishikawa and Sofia Wolman. The conference also included 44 workshops, organized by the groups that proposed them, held at the Cooper Union, Pace University, and Hunter College. All plenaries were live streamed and recorded, as were two of the workshops. An evaluation will be conducted, but oral feedback was that the conference was exceptional.
5. Mark C. Johnson took the lead in organizing an International Interfaith Convocation, which was held at the Church Center for the United Nations, with standing room only in the 600 seat chapel. Those who participated have talked about how beautiful, compelling and inspiring the convocation was. Nearly all of the convocation participants later participated in the International rally, march and festival.
6. After overcoming considerable resistance from the NYPD and Parks Dept., involving months of negotiations and with the help of the ACLU an international rally was held at Union Square North on April 26. The Square was completely filled, with estimates running between 7,500 (Co-Conveners) and 10,000 (Gensuikyo) participants. The rally included more than 1,000 Japanese activists, including 80 Hibakusha. Speakers and performers included Tetsu Kitagawa, Leslie Cagan Nakamura Yuko (a Hibakusha,) Manny Pino, MEC Jean Lambert, Rev. Osagyefo Sekou, Rev. Dr. Herbert Daughtry Megacith, Reiner Braun, Judith LeBlanc, Walden Bello, Dan Ellsberg, Thomas de Toledo, Mayor Matsui of Hiroshima, Bikers for Peace Thore Naerland.
An emotional and visual highly of the rally was the launching of the Global Peace Wave Action by Rimma Velikanova of the Basel Peace Office and Karipbek Kuyokov, a second generation Kazakh nuclear weapon test victim.
7. The march from Union Square North to Dag Hammarskjold Plaza was led by about eight Hibakusha in wheel chairs, who – along with other Hibakusha – traversed the entire distance. Spirits were high, even as German participants remarked on the heavy police presence which reflected a lack of full democratic rights and freedom.
8. The Festival at Dag Hammarskjold was more impressive than in 2010. We overcame intense opposition from the NY Parks Dept. to hold it. 35 organizations had literature tables. The high point was the presentation of nearly 8 million petition signatures by Gensuikyo, Mayors for Peace and Peace and Planet to High Representative for Disarmament Kane and NPT Review President Ambassador Feroukhi. The presentation was swarmed by media as has been a focal point of media reports about the mobilization. Unlike 2010, great attention was given to arranging Festival musicians and performers, and it carried people's attention to the end.
9. Under the leadership of Alyn Ware, the Global Peace Wave, launched at the NY rally went westward, by time zone, with more than 100 actions around the world, arriving back at the UN 24 hours later for the opening of the NPT Review Conference. The Global Wave provided organizations and activists in more than 20 countries the opportunity focus movement and media attention on the Review Conference and our demand for the Conference to mandate the commencement of negotiations for the complete elimination of nuclear weapons. These events – such as kite flying for Peace & Planet – in the Philippines and the ringing of the bells in the Bethlehem Christmas church provided a means for local organizations to build their movements.
10. A number of Peace & Planet-related organizations arranged for Hibakusha talks in schools and other venues in New York, Boston, Washington, D.C., Chicago, San Francisco and Nevada, as well as in Peace & Planet events. Thousands of high school students were thus reached with lessons about Hiroshima and Nagasaki, the human consequences of nuclear weapons, the continuing dangers of nuclear weapons and nuclear war, and the imperative of working for a nuclear-free world.
11. Among the other activities feeding in to the Peace and Planet Mobilization were three walks (from Oak Ridge, Tennessee, New England and California,) a Bike for Peace/Mayors for Peace ride from
Washington, DC to New York, and a Shadows and Ashes civil disobedience action at the U.S. Mission to the U.N. organized by the War Resisters League.
11. Media: See attached initial summary of media coverage of the Peace & Planet activities
Our Proposal
The Review Conference has just completed its first week, so its outcome is anything but certain. Given the resistance of the nuclear powers to fulfilling their Article VI obligations and the new era of confrontation and other forces that are fueling new nuclear arms races, the prospects for the Review Conference are less than rosy, and we do not expect our demand that the Review Conference mandate the commencement of the good faith negotiations will be me. It should come as no surprise that our struggle for nuclear weapons abolition (as well as for peace, justice and environmental sustainability) will be for the long term.
In this context we seek A-2000 approval for the creation of a Peace & Planet Campaign. As with this year's mobilization, it will work to help build an issue-integrated movement to maximize the power of the nuclear weapons abolition, peace, justice and environmental movements. Among the next steps will be:
1) Collecting and posting documentation of the Peace & Planet Mobilization events, including media report, texts of speeches, photos and videos on the Peace & Planet website
2) Conducting an evaluation of the 2015 Peace & Planet Mobilization
3) Launching "Peace & Planet Summer" covering the period from the end of the NPT Review Conference to the 70th anniversaries of Hiroshima and Nagasaki
4) Organizing a Peace & Planet workshop at the US Social Forum
5) Continuation of the Peace & Planet social media campaign
6) Continued development of relationships across issue areas, including encouraging reciprocity among our movements
7) Convening a strategy consultation with international partners during the World Conference against A- & H- Bombs in Hiroshima or Nagasaki
8) Organizing a strategy development meeting with coordinating and advisory committee members and key allies in the Fall of 2015
9) Implementation of strategy developed in the Fall of 2015
This is a preliminary outline. We welcome additional ideas coming out of today's meeting and going forward.
Submitted by Joseph Gerson, AFSC, Kevin Martin, Peace Action, and Jackie Cabasso, Western States Legal Foundation.