A Decade Ago, The World Said No to "Pre-emptive" War and Yes to Peace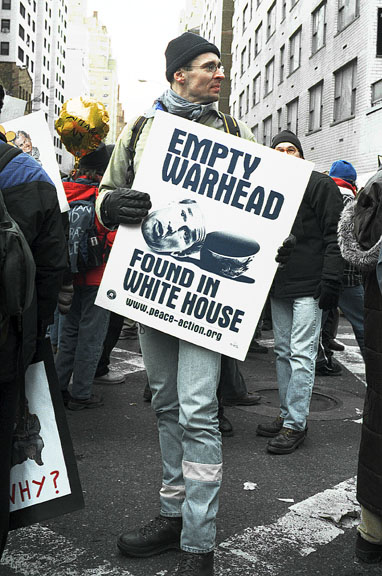 Ten years ago, in the largest demonstration in history, over 15 million people worldwide hit the streets to call for peace instead of George Bush's "pre-emptive" war of aggression against Iraq. While we didn't stop the war, that day remains an inspiration for many who marched. The New York Times called us "the other world superpower," and veteran columnist Jimmy Breslin wrote a moving article calling the demonstrators the nicest people he'd ever met.
I was in New York City, freezing my tuchus off with our Japanese friends and colleagues from our sister peace group Gensuikin, who arranged to come all the way from Japan to stand in solidarity with the U.S. peace movement. The heavy handed, menacing (near snarling, to be truthful) police presence in Manhattan that day was overwhelmed by the power of hundreds of thousands of nonviolent peacemongers!
Were you there in New York, or in another city in the United States or another country? Have any stories, photos or videos to share?
Soon, a documentary film We Are Many about that beautiful day will be released (see the website and a teaser for the film). We'll keep you posted as to the premiere and ways to promote and distribute the film as we get the details.