Peace Action Endorses Gil Cisneros for Congress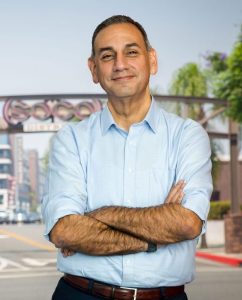 Washington, DC – September 25, 2018 – Today, Gil Cisneros, Fmr. Lieutenant Commander who is running for Congress in California's 39th Congressional District, was endorsed by Peace Action, the nation's largest grassroots peace network and disarmament organization. For over 60 years, Peace Action has worked for an environment where all are free from violence and war. Peace Action works to promote a peaceful support for human rights and democracy, eliminating the threat of weapons of mass destruction, and cooperation with the world community.
"Peace Action proudly endorses Gil Cisneros and his campaign for the United States House of Representatives," said Paul Kawika Martin, Senior Director for Policy and Political Affairs at Peace Action. "Gil Cisneros represents an excellent choice for California's 39th district, and for the country. Gil understands that Americans are safer when the decision to go to war rests with the people's representatives in Congress rather than in the hands of the president. As a Navy veteran and a father, Cisneros understands the seriousness of sending our nation's soldiers into war. He also knows that security for American families doesn't only come from a strong military, it comes from a smart economy that invests in basic human needs like healthcare, housing, and education."
"I am honored to be endorsed by Peace Action, a long-time force for peace and nuclear disarmament that has made the world a safer place," said Cisneros. "As a third generation member of a military family, I understand the effects that war has on a country, and on those who serve. Washington needs to make sure that the grave decision to go to war is not subject to any president's whims or political motivations. President Trump's administration has systematically undermined our international standing by cutting State Department funding and withdrawing from vital international agreements like the Paris Climate Accord. In Congress, I pledge to support a fully funded State Department and fight for restoring American leadership in diplomacy."
The endorsement of the Peace Action, adds to the growing list of organizations and elected officials who support Cisneros's campaign, including The Coalition for Humane Immigrant Rights (CHIRLA), immigrants rights champion Dolores Huerta, California Secretary of State Alex Padilla, California Assembly Speaker Anthony Rendon, Los Angeles Mayor Eric Garcetti, Congressman Ted Lieu and eighteen other Democratic members of Congress, the San Bernardino County Professional Firefighters, Orange County Professional Firefighters Association, Los Angeles County Professional Peace Officers Association, Planned Parenthood Action Fund, NARAL Pro-Choice America, California Treasurer John Chiang, SEIU California, the Giffords Campaign to End Gun Violence, The Brady Campaign, California School Employees Association (CSEA), the California Democratic Party, United Food and Commercial Workers (UFCW), UniteHere! Local 11, Southwest Regional Council of Carpenters, United Steel Workers, the Orange County Labor Fed, the LA County Labor Fed, the California Labor Fed, IBEW Local 11, LiUNA Local 562, BOLD PAC, End Citizens United, the national Veterans advocacy organization VoteVets, and numerous local officials.
###
To learn more about Gil Cisneros and his candidacy, visit www.cisnerosforcongress.com.
Founded in 1957, Peace Action (formerly SANE/Freeze), the United States' largest peace and disarmament organization, with over 100,000 paid members and nearly 100 chapters in 36 states, works to abolish nuclear weapons, promote government spending priorities that support human needs, encourage real security through international cooperation and human rights and support nonmilitary solutions to the conflicts with Afghanistan and Iran. Peace Action endorses dozens of candidates per election cycle and through Peace Action PAC raises tens of thousands of dollars for candidates and donates staff to key races.
The public may learn more and take action at www.peaceaction.org.